Terror-related arrests in Britain down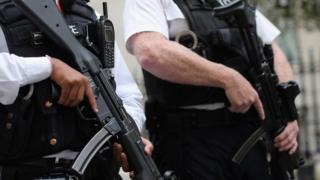 The number of people arrested in Britain on suspicion of terrorism fell slightly in the year to December 2015, Home Office figures have shown.
The 280 arrests - down from 289 in the 12 months before - reflect a drop from 28 to 15 in cases focused in Britain.
International-related arrests, including those linked to Syria, rose by seven to 265 in the same period.
Sixteen people under 18 were arrested - a rise from 10 in the previous 12 months.
The figures show the number of children arrested was the highest in a calendar year since the data collection began.
Overall arrests for the 12 months to December were down from the record of 315 set in the 12 months to September 2015.
Forty-five females were detained in England, Wales and Scotland in the year to December, an increase of 15 compared with 2014. However, the number compares with a figure of 50 arrests for the year to September 2015.
Of the suspects arrested in the year ending December 2015, 34% (96 people) have been charged, with a further 23% (64 people) released on bail.
The figures indicate 39% of those arrested were released without charge, and 4% faced alternative action such as a caution or action under mental health legislation.