Maundy Thursday: Queen hands out 90th birthday coins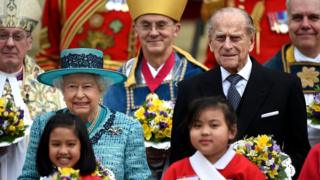 The Queen has handed out commemorative Maundy coins in a traditional royal service at St George's Chapel at Windsor Castle.
Ninety men and 90 women, representing her 90 years, were presented with the coins in recognition of service to the Church and community.
The Queen was accompanied by the the Duke of Edinburgh.
It is the first time the service has been held at St George's Chapel since 1959.
Each recipient received two purses, one red and one white. This year the red purse contained a £5 coin, commemorating the Queen's 90th birthday, and a 50p coin commemorating the 950th anniversary of the Battle of Hastings.
Royal Maundy can be traced back in England to the 13th Century. The service derives its name from the Latin "mandatum", Jesus Christ's commandment to his disciples to "love one another", after he had washed their feet on the day before Good Friday.
This year the Queen gave coins, which are known as Maundy money, to 180 deserving senior citizens who have been recommended in recognition of their service to the Church and community.
They are traditionally selected from a single diocese but this year have been chosen from across the country.