'Hope she was worth it' spray-painted on Range Rover car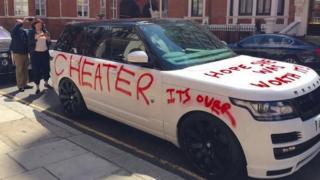 Photos of a car with angry messages spray-painted on the body have been shared thousands of times on Twitter.
The white Range Rover Revere - with a starting price of £75,000 - was seen parked near Harrods in west London and daubed with angry messages by what appears to be a scorned lover.
"Cheater" was painted on both sides of the vehicle while the words, "Hope she was worth it" were marked on the rear window and bonnet.
Klo who took the photos said she saw a woman spray-painting the car.
"I have no idea who she was - she was just going crazy.
"No one tried to stop her. She just left afterwards."
It could be a publicity stunt with no spurned lover at all. A TV network has been attributed to the incident, to promote a comedy drama series about adultery and divorce.
But pictures of sports cars daubed with graffiti on the streets of New York that are being shared on Twitter are from December 2014, when TV network Bravo publicised their new series.
"The original stunt was created and executed in the US by a company called Omelete to tie in with Bravo's Season 1 premiere of Girlfriends' Guide to Divorce in the US", says A+E Networks UK that aired the show in the UK in 2015.
"However, no one at Bravo, Universal Cable Productions, Omelete or Lifetime are involved in this [incident] in any way."