Trinity Mirror's New Day newspaper to close after poor sales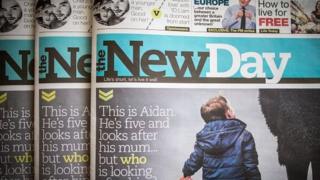 Daily newspaper the New Day is set to close on Friday, just nine weeks after it was launched.
Publisher Trinity Mirror said it was "disappointing" but circulation for the title was "below our expectations".
Editor Alison Phillips said "we tried everything we could", getting a great reaction from readers, "but the reality was we didn't have enough of them".
It had hoped to sell about 200,000 copies a day, but sales are reported to have fallen to about 40,000.
The majority of the newspaper's 25 staff will lose their jobs, with the remainder being absorbed by the Mirror newspaper.
The paper was launched in February and was said to be politically neutral and aimed at "time-poor" readers. Although the title had a social media presence, it did not have a website.
'Took a chance'
Ms Phillips, former editor of the Mirror's weekend edition, wrote on Facebook: "The response over the 50 issues we have published has been extraordinary.
"I have never worked on a title with such engagement from readers. There clearly were many people who truly loved the idea of a different kind of newspaper which spoke to them. But the reality was we didn't have enough of them on a daily basis."
She also praised the team for "their hard work and commitment but also for having the guts to take a chance and to try something new when they knew there were few guarantees of success".
She added: "To have not given this a go was to mean we were content to stand on the pavement and watch the decline of British national newspapers hurtle past us. But we weren't. And we still aren't."
Two million copies were distributed free on launch day. It then cost 25p for the first two weeks, before rising to 50p.
In its trading update Trinity said: "Although the New Day has received many supportive reviews and built a strong following on Facebook, the circulation for the title is below our expectations.
"Whilst disappointing, the launch and subsequent closure have provided new insights into enhancing our newspapers and a number of these opportunities will be considered over time."
At launch the company reported a £14.4m fall in annual pre-tax profit to £67.2m. Its share price rose by more than 7% on the news of the closure.
Jane Martinson, head of media at the Guardian, said it showed that "this is a terrible time to launch a newspaper".
"We have to welcome a brave and optimistic attempt to do something in this market. Was it ill-conceived though? I would say yes."
She said she believed the pricing was wrong and it did not give readers enough news.
The New Day was the first new national paper since the launch of i, a slimmed-down version of the Independent, which went on sale in October 2010.
However, its impending closure comes just over a month after the Independent and Independent on Sunday ceased as print editions to concentrate on online publishing.
Amol Rajan, editor-at-large at the Independent, said he felt sympathetic for the people who worked at the paper but it was the right decision to close.
"If it's not working, it's better to pull out quickly rather than lingering on," he told BBC Radio 4's Today programme.
"The New Day was not a news-led product - it was a features-led product. In that way it was unique but it was not a compelling proposition."
---
Analysis
By BBC media correspondent David Sillito
It is a torrid time for the news industry. Print circulations have been dropping and this year has seen a sharp drop in advertising revenue.
The shift to digital is not replacing the money lost from the decline in print.
The launch of New Day was an unexpected vote of confidence in paper and ink. It looked colourful and clean and it was aiming to reach a younger readership.
There was no party political line being sold, no hectoring editorials telling you what to think - just a crisp digest of the day's news with a side order of positive and human interest stories.
Its model was looking to the two other successful newspaper launches of the last few years, Metro and the i.
The speed of its closure perhaps owes something to the need to tell shareholders that urgent action has been taken to arrest Trinity Mirror's sliding profits. But with so many papers struggling, any closure sends a little shockwave across newsrooms.
It might just have been a badly conceived product, but if something could have been done to tempt lost readers back in to print it would have been good news for the whole industry.
The fear is that this will send out a message that survival won't come from print innovations but hunkering down, cutting costs and well-managed decline.
---