Kenya 'ill-treatment' cases launched at High Court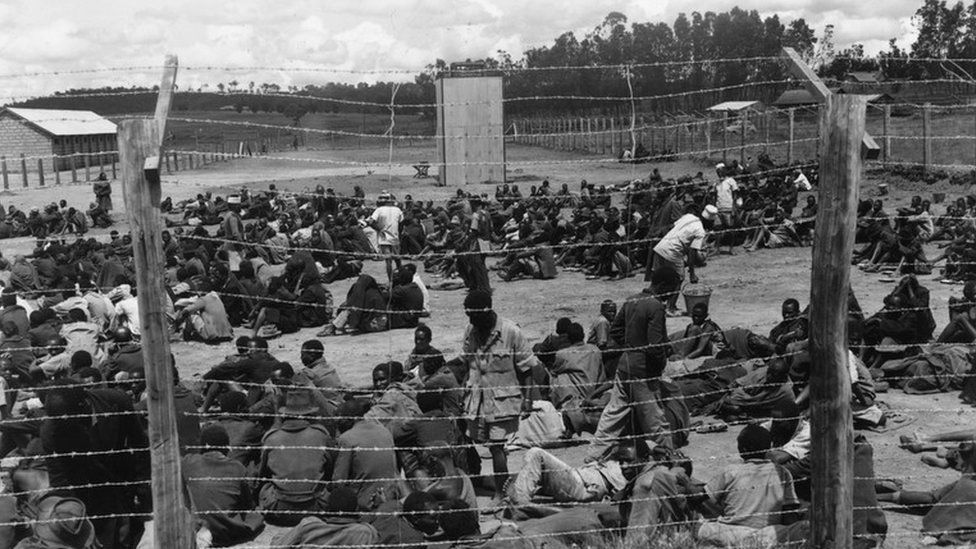 A damages action on behalf of 44,000 people who say they were ill-treated in the state of emergency in Kenya in the 1950s has started at the High Court.
Lawyers for the group want compensation for personal injuries allegedly caused by the British colonial administration when it put down a guerrilla uprising.
The contested hearing, lasting six months, will consider 27 test cases.
The UK Foreign and Commonwealth Office, to which legal liability has passed, is expected to apply to adjourn the case.
The Mau Mau, a guerrilla group, began a violent campaign against white settlers in 1952 which led to a state of emergency being declared in Kenya.
The claimants, 2,000 of whom have died since proceedings began, were detained in screening centres, prisons, detention camps and under a programme known as "villagisation", in which people were forcibly resettled to keep them under control.
Simon Myerson QC told Mr Justice Stewart that the group was subjected to "unlawful and unjustifiable" conduct.
"This is not a moral crusade and these proceedings will not be judged on any basis other than that set out in law," he said.
"But that does not prevent anyone drawing the conclusion that what we - the United Kingdom and its government - did in Kenya during the Emergency was wrong.
"It is because the facts demonstrate wrongful conduct that the law affords redress."
He told the judge in London: "The men and women who suffered in this way were not enemy insurgents upon whom a war had been declared and who were casualties of the horrors that soldiers sometimes see.
"They were, to a man, woman, and child, British subjects."
Mr Myerson said all the test claimants gave evidence of violence, abuse and suffering, and it led to the death of infant children of four of them.
A third of them were sexually assaulted, and all but one subjected to forced labour, he said.
Three years ago, after a separate class action, the then Foreign Secretary William Hague announced that Britain would pay £19.9m to 5,228 elderly Kenyans who suffered torture and abuse during the Mau Mau uprising.
The UK government continued to deny liability and said it would contest future claims.
Kenya gained independence in 1963.