Gun crime: European countries urged to improve data sharing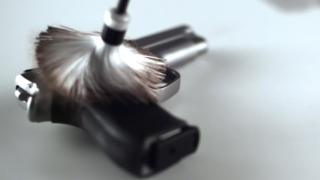 Governments across Europe need to improve the way they gather and share information about firearms to cut gun crime, a major UK-led report has said.
Researchers' main concern was the lack of emphasis placed by some countries on investigating the source of weapons.
As part of the study, experts examined 1,000 gun cartridge cases from Serbia and found links to 50 shootings.
The findings of the research project, led by Coventry University, will be presented in Brussels later.
Loopholes exploited
The 15-month Effect Project looked to establish a clearer picture of the prevalence of gun crime across Europe, and identify initiatives to tackle the trade in lethal weapons.
The study found that inconsistencies in the way countries compile crime data meant it was not possible to determine the true number of firearms offences.
It also found legal loopholes that could be exploited by criminals to acquire guns and "considerable delays" in testing firearm residue and bullets found at crime scenes.
While researchers looked in detail at countries in south-eastern Europe, they say the recommendations are relevant to all European countries, regardless of whether they are members of the EU.
The report put forward 30 recommendations, one of which was the creation of what it called "firearms focal points" for countries to gather, analyse and then share information, not only about the firearms but also their ballistic material.
Moving across borders
Matt Lewis, director of UK-based firm Arquebus, which examined the cartridge cases, said they were able to identify connections relating to about 50 shootings, a "considerable number" of which had been previously unknown.
"We also compared the results against a number of ballistic databases in other countries and identified potential links with the former Yugoslav Republic of Macedonia, Kosovo and Sweden," he said.
"Firearms are used by criminals on multiple occasions both internally within a country and across international borders," he added.
"Understanding more about where they originate from, how they move within countries and cross-border, and have been used before will enable the UK to work with other countries to help tackle the problem at source, rather than at our border."
The report will be presented to members of the European Parliament, European police chiefs and heads of international law enforcement agencies, including Interpol and Europol.