'Longest' Muslim holy month of Ramadan in 33 years begins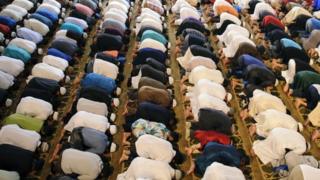 Muslims in the UK are facing the "longest" Ramadan in 33 years, as the holy month coincides with the summer solstice, meaning long days of fasting.
Many Muslims will not eat or drink water during daylight, which at this time of year can last about 16 to 19 hours, depending on your UK location.
Fasting ends at sunset with a meal, known as the Iftar.
Ramadan is determined by the lunar cycle and will run from 6 June to about 5 July this year.
The timing shifts each year in relation to the Western calendar.
Earlier this year, exam boards said key GCSE and A-level examinations were timetabled this summer to take into account the holy month.
The Muslim Council of Britain has warned those who are fasting to be careful during long and hot daylight hours.
It says that as dehydration is a serious risk during hot weather, it is important to drink plenty of water between Iftar (sunset meal) and Suhoor (pre-dawn meal).
London's first Muslim mayor, Sadiq Khan, tweeted that fasting "won't be easy" and said he would miss coffee the most.
---
Ramadan Timetable (London)
The first week:
Monday, 6 June - Fast begins 02:46 BST, fast ends 21:17 BST
Tuesday, 7 June - 02:45, 21:17
Wednesday, 8 June - 02:44, 21:18
Thursday, 9 June - 02:43, 21:19
Friday, 10 June - 02:42, 21:20
Saturday, 11 June - 02:41, 21:20
Sunday, 12 June - 02:40, 21:21
These times are from the London Central Mosque Trust Ltd; check your local mosque for times in other areas.
---
Prime Minister David Cameron tweeted: "To everyone in Britain and around the world observing the holy month of Ramadan, I wish you Ramadan Mubarak."
It was posted alongside a video message, in which he spoke of a multi-faith Iftar (the meal after sunset) being held in Coventry Cathedral.
"In Manchester, they're combining an Iftar with England's European Championships appearance," he said.
"And homeless shelters up and down the country are holding Iftars with the Homeless".
He also said this Ramadan was a time to "renew our resolve" to help those whose lives had "been torn apart" by Syria's civil war and so-called Islamic State.
"All those families spending this holy month in refugee camps, mourning loved ones, yearning to go back to school or work, wondering whether they'll ever return home again," he said.
"Our thoughts, whatever our backgrounds or beliefs, are with them."
---
What is Ramadan?
Ramadan is the ninth month of the Islamic calendar and a time when Muslims will fast during the hours of daylight. It lasts for 29 or 30 days.
Muslims believe the Koran was first revealed to the Prophet Muhammad during this month.
As one of the five pillars of Islam, fasting is obligatory for all healthy Muslims - a test of patience and endurance whilst refraining from eating and drinking, and sexual activity.
It is common to have one meal, known as the Suhoor, just before dawn and another, known as the Iftar, directly after sunset.
The end of Ramadan is marked by "Eid-ul-Fitr", the Festival of the Breaking of the Fast.
---
Are you observing Ramadan? How are you and your family planning to manage the fast? If you have an experience you would like to share, then contact us in the following ways:
Email us at haveyoursay@bbc.co.uk
Please include a contact number if you are willing to speak to a BBC journalist. You can also contact us in the following ways:
Upload your pictures / video here
Tweet: @BBC_HaveYourSay
Send an SMS or MMS to 61124 or +44 7624 800 100
Contact us on WhatsApp number +44 (0)7525 900971
Text us on 61124 or +44 7624 800 100 if you are outside the UK