Euro 2016 violence: England fans urged to 'behave responsibly'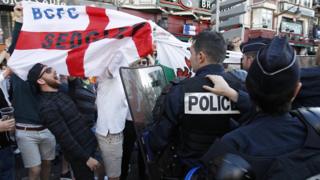 England football fans were urged to behave responsibly ahead of their team's first Euro 2016 victory, a 2-1 win against Wales.
Police say 37 people were arrested on Wednesday, while riot police also fired tear gas and charged at hundreds of England fans gathered in Lille.
FA chief executive Martin Glenn told fans to be aware police in France were also dealing with terror threats.
Uefa this week threatened to disqualify England if there was any more violence.
In a statement, the tournament organiser said it regretted the "skirmishes" in Lille, but that police had been "quick to restore order and keep the situation under control".
England's tense match against Wales in Lens, a northern town close to Lille, ended with a winning England goal in injury time just before 16:00 BST.
England now top Group B on four points, with Wales and Slovakia joint second on three and Russia last on one. All four have one more game to play.
---
At the scene
By James Reevell, BBC News, in Lille
The streets of Lille are calmer and more jovial than last night.
England fans seem happy to quietly drink in small groups, with the major trouble-spot bars closed. The vast majority are enjoying the evening sunshine.
Police tactics seem far more relaxed, although they have used stop-and-search on individuals, aided by British police spotters on the look out for known hooligans.
Of course, the moment of truth will come when darkness falls and French police want England fans to go to bed.
---
Thousands of English and Welsh supporters have been staying in the larger city of Lille, where the latest disorder occurred.
Russian and Slovakian supporters were also in Lille for their Wednesday game at the city's Stade Pierre-Mauroy.
Some English and Russian supporters were detained after scuffles on Wednesday, when hundreds of England fans were surrounded by riot police in the city's main square.
French authorities said officers faced provocation from drunken England fans. Tear gas was used twice, with 10 grenades fired in total, to disperse supporters.
There were no major problems between England and Russia fans and there was no direct confrontation with police, they added.
Of the 37 arrests on Wednesday 15 had resulted in detention. The other arrests were mainly for drunk and disorderly offences.
In other developments:
'Consideration and respect'
Speaking to BBC Radio 4's Today programme, FA chief executive Mr Glenn said the atmosphere between England supporters and French police in Lille on Wednesday had seemed "to change overnight".
He called on England fans to show "consideration and respect", pointing to the murder on Monday of two French police officials by a man claiming allegiance to so-called Islamic State.
"The French are trying to deal with a real security threat," Mr Glenn said.
"Behave responsibly, come and enjoy the game, but just have a think about the wider position."
He said independent security experts had been in Lille and were due to report back to the FA later.
The BBC's Ben Brown, who is in Lille, said the riot police had "lost their patience" with fans on Wednesday and wanted to assert their control.
BBC Radio 5 live correspondent Nick Garnett, who is also in Lille, says police herded fans from bar to bar in a "game of cat and mouse" that lasted through the night.
"Eventually everyone got tired and frankly bored and went home," he said.
French authorities said those arrested on Wednesday included six Russians involved in the violence in Marseille. Another five people were arrested for public drunkenness on a train.
Some England fans have accused French police of heavy-handedness, but others say their behaviour was at fault.
Fan Jonathan Calder said: "What I saw last night was sinister - I've never been so ashamed to class myself as English or British."
A drinking ban remains in place in some parts of central Lille and the stadium, but Mr Calder said he had seen "no evidence" of it working.
BBC sports editor Dan Roan, who is with the England team, said England were "skating on thin ice" in terms of participating in the tournament, and the threat of disqualification would "inevitably" affect the players.
Six England fans, aged 20 to 41, have received jail sentences ranging from one to three months in relation to disorder surrounding the England-Russia game, which finished 1-1 on Saturday.