Restraint use on child prisoners doubles, says Howard League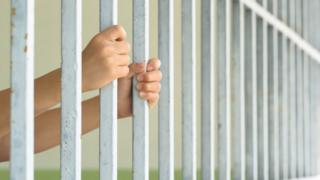 Children held in custody in England and Wales are twice as likely to have force used against them by staff than they were five years ago, research suggests.
A report by the Howard League for Penal Reform charity also suggested some children were being put in solitary confinement for 23 hours a day.
But it said there had been a sharp fall in the number of youngsters in prison.
The government said the safety and welfare of young people in custody was its "highest priority".
The charity's report comes a decade after the Howard League published an independent inquiry, chaired by Lord Carlile, which recommended that restraint should never be used as a punishment or to secure compliance.
The new report - entitled "The Carlile Inquiry 10 years on" - compares, using official government statistics, the rate of restraint used against young prisoners in January 2010 with the rate in January 2015.
'Punishing regime'
It found that in January 2010 the restraint rate in one month had been 13 per 100 young people in prison, but the figure had jumped to 29.3 in 100 by January 2015.
A fifth of all incidents involved what the report described as the "head-hold" technique.
Although the author of the report highlighted isolated figures for the month of January in 2010 and 2015, the research found the numbers for the five years in between showed a steady rise in restraint rates.
The report also said that children, classified as 10 to 17-year-olds, had suffered 4,350 injuries over the last five years as a result of being restrained.
Back in 2006 when the initial inquiry was carried out there were around 3,000 youngsters in prison, but this has now dropped to less then 1,000 - a statistic hailed by the Howard League as a "considerable achievement".
Frances Crook, chief executive of the Howard League for Penal Reform, said: "There is much to celebrate in the story of children in conflict with the law because the numbers are significantly reduced, but still children in custody are mistreated, abused, and suffer a punishing regime."
Other findings from the report include:
The rise of a "widespread" practice to lock children in cells for 23 hours a day in an attempt to deal with increased violence and staff shortages
Too many boys are still being strip-searched - an average of one a day last year
'Extreme circumstances'
Lord Carlile of Berriew QC, who led the original inquiry, called on the Ministry of Justice to do more to implement his previous recommendations.
He told BBC Radio 4's the World at One that there was still a "crisis" 10 years after his initial report.
"The use of restraint has increased proportionately in order to secure compliance, the use of pain in restraint is unlawful but they're still doing it. And also the use of solitary confinement has increased substantially."
He conceded that in "extreme circumstances" restraint may be justified, "but not to secure obedience or compliance".
He told of an incident where a boy was restrained for refusing to leave a room, and he cited it as an example where force had been used incorrectly, although he admitted the boy was "quite disturbed".
But Mike Rolfe, the national chairman of the Prison Officers' Association (POA), told the same programme that the prison system was "under-resourced".
"We have seen a drastic reduction in the amount of prison staff working within prisons and that includes with younger people," he said.
"You're talking about an under-resourced system, where it is just managing day-to-day - firefighting basically."
Asked whether this justified hurting children, he said: "No it doesn't, but unfortunately a necessary outcome sometimes is that force is used, and unfortunately people do get injured, and that includes staff as well."
A spokesman for the Ministry of Justice said restraint and segregation should only be used as a "last resort".
He added: "We are clear that if restraint is absolutely necessary, it must be used within the parameters of the law, and comply with strict safeguards. We have also introduced a new system designed to minimise the use of physical restraint in youth custody and we are committed to improving practice further."
Case study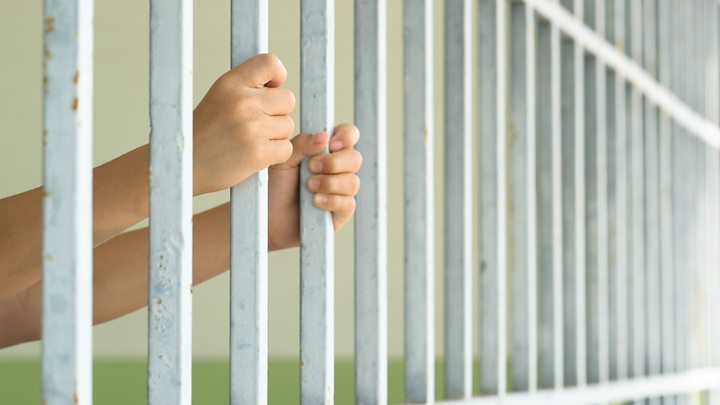 Jake Davis, who spent time in a young offenders institution for computer hacking, told BBC News about a time when he was on cleaning duty during his incarceration.
"I was emptying bins on the prison wing, and there was a lot of noise coming from one of the cells," he said.
"Quite a vulnerable young lad, who was on 23 hours a day lock-up, the guards weren't letting him out because he was being quite anxious, being quite erratic.
"I suggested to the guards, 'Can he come out and help me clean the bins?' The guards said, 'No, that's out of our hands'... which I thought was ludicrous.
"About 2am that morning we heard guards rushing to his cell, he'd apparently attempted to hang himself in his cell. Fortunately he was OK. I then didn't see him again, ever."