UK jihadi 'dies in suicide bombing' targeting Iraq army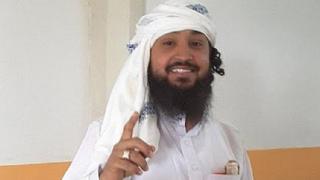 A British jihadi is said to have died in a suicide bombing targeting the Iraqi army, according to reports.
The so-called Islamic State group has posted a photograph on social media of a man they identified as Abu-Hurayrah al-Britani, saying he carried out the attack north of the city of Baiji.
The circumstances of the incident have not been independently verified.
Meanwhile, the Ministry of Defence has said it is increasing training support to Iraqi forces taking on IS.
About 800 people from the UK are believed to have gone to fight in Iraq or Syria. About half have since returned to the UK.
Al-Britani is thought to have been the same person who gained attention on Twitter last year when an image emerged showing him holding a jar of Nutella.
He was among a number of jihadis who started to mock media claims that the group was using the Italian chocolate spread and kittens to attract women to IS.
Although he was later blocked by Twitter, a tweet he had saved earlier featured another unidentified fighter talking about missing his "brothers in London".
Air support
The additional MoD support will see 50 more trainers sent to to the Al Asad Airbase in Western Iraq to provide instruction on countering improvised explosive devices, infantry skills and combat first aid.
About 90 personnel will assist with guarding the airbase, while 30 members of staff will help command the mission. An engineering squadron will also deploy for six months to build infrastructure.
About 295 personnel are currently involved in training at the base and other locations across Iraq.
The RAF is also continuing its air support for Iraqi ground forces. Its latest updates details strikes last week involving Typhoon jets and Reaper remotely piloted aircraft targeting jihadists near Sharqat in the north of the country and Fallujah.