Crown postal workers to vote on strike action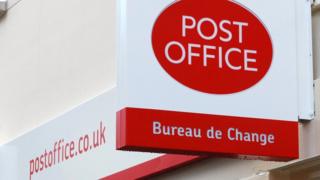 Postal workers at Crown offices are to be balloted on strike action over job cuts, pension changes and post office closures, the Communication Workers Union says.
It says about 3,500 of its members will be balloted on whether to launch industrial action.
The ballot will be for staff at 300 Crown offices, supply chain depots and administration sites across the UK.
The union opposes what it says is the network's "wholesale privatisation".
It is also against any job cuts or the planned closure of the defined benefit pension scheme.
There are currently about 11,500 post office branches across the UK, of which 300 are directly managed by Post Office Ltd and are known as Crown offices.
Postal delivery staff are employed by Royal Mail so would not be directly involved in any action.
'Iconic brand'
CWU general secretary Dave Ward said: "The Post Office as we know it is on the brink of extinction. It is clear that the board's plan is one of closure, redundancy and cost-cutting on an epic scale which will permanently undermine this great British institution.
"We are repeating our call for the board to resign with immediate effect and be replaced with people who are actually interested in delivering jobs and services through this iconic brand."
The union said 2,000 jobs had been lost this year, with 60 Crown offices set to be franchised, 16 moved into another retailer and four closing.
The Post Office said in a statement that it was disappointed by the CWU's decision to ballot for strike action and has called for talks to resolve the issue.
It added: "The Post Office is committed to maintaining the vital services offered by its branches at the heart of communities across the UK, with 99% of the UK's population within three miles of a Post Office branch.
"However, this level of service can only be secured for future generations by ensuring the business's financial sustainability.
It also said the Post Office "understands that some of these changes are difficult for those affected by them and is committed to treating people with dignity and respect".
A series of strikes at more than 70 Crown offices were held in 2013, in a long-running row over jobs and pay.