Road deaths involving police increase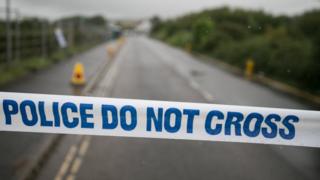 The number deaths in road incidents involving police in England and Wales rose to 21 in the year to March - 13 of them in pursuits by officers.
Figures from the Independent Police Complaints Commission show traffic deaths were up from 14 in 2014-15 but comparatively lower than earlier years.
Overall, the IPCC, in a 12th set of annual statistics, recorded 200 deaths during or after police contact.
Twelve men and two women died in or after being held in police custody.
The IPCC said all 21 road traffic deaths concerned men, with nine involving people aged between 18 and 29.
The number of pursuit-related fatalities increased from seven in the last set of statistics.
The remaining eight traffic deaths were linked to police vehicles responding to requests for emergency assistance or other events, such as an incident where a driver collided with a wall after speeding off following a roadside stop.
'Identify vulnerabilities'
The number of deaths in police custody was down from the five-year high of 17 recorded in 2014-15, said the IPCC.
Six of the 14 people had been subjected to some force against them by officers but this did not necessarily contribute to their deaths, it added.
Seven of those who died in or after custody had had mental health issues, while 12 used drugs or alcohol.
IPCC chairwoman Dame Anne Owers said: "The police need to be able to identify these vulnerabilities and risks in order to manage them.
"There have been considerable improvements in the custody environment - reflected in the statistics - but there is further to go, particularly in assessing and managing risk and ensuring that information is passed on within the police service and to other agencies."
She added: "However, the responsibility does not just lie with the police service.
"Time and again, the police deal with people whose needs and risks have not been picked up or managed in the community."
Additional funding
The IPCC figures also show:
60 people are thought to have killed themselves in the year to March within two days of being released from police custody, down from 70 in 2014-15. More than a third had been arrested on suspicion of sexual offences
There were three fatal police shootings, the second-highest figure recorded since 2004
The IPCC investigated 102 other deaths following contact with police - involving 74 men and 28 women; five people were aged under 18
Almost half of the "other deaths" related to people who were reported to be intoxicated with drugs and/or alcohol or for whom it featured heavily in their lifestyles
The number of other deaths increased from from 59 in 2014-15 but the IPCC said this reflected a rise in the number of investigations it carried out with additional resources, rather than any definite rise in people dying in such circumstances