Reality Check: Is NHS in Wales better at treating cancer?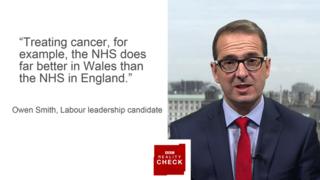 The claim: The NHS in Wales treats cancer far better than the NHS in England.
Reality Check verdict: Direct comparisons are difficult to make. But, from what data is available, it is hard to conclude that the NHS in Wales is doing "far better" on all aspects of cancer care. Although, it is doing better on one of the key measures of waiting time before treatment.
Taking viewers' questions on the BBC News channel, Labour leadership candidate Owen Smith was asked whether the NHS in Wales, run by Labour, had been doing better than the NHS in England.
"On some measures, it definitely is," he said.
"Treating cancer, for example, the NHS does far better in Wales than the NHS in England."
When it comes to determining who is "doing better" at treating cancer, you can look at two things:
how long it takes to get a patient into treatment
survival rates following treatment
The NHS in Wales does better at treating people within two months, which is seen by many as a key benchmark, although it does worse at seeing certain patients within 31 days.
When it comes to outcomes, the problem is that there are no directly comparable figures on survival rates in England and Wales from the past five years.
But analysis from both medical journal The Lancet and the Welsh government suggests overall cancer survival rates are slightly lower in Wales than they are in England.
There is a wide variation in survival rates between different types of cancer, though, so we have looked at the three most common, which account for more than half of all cases in the UK:
In Wales, fractionally more people with a prostate or breast cancer diagnosis survive one year from getting the all clear, but they have worse outcomes for lung cancer.
Five year survival rates are generally more useful in telling you how successful someone's treatment has been, but they are not calculated in the same way for England and Wales.
The most recent available figures for Wales are for people diagnosed up to 2009, while the latest England figures go up to people diagnosed in 2013. But in Wales you are looking at actual survival rates while in England the figures are a projection.
Comparing these most recent statistics, slightly more men in Wales who have been treated for prostate cancer survive, while outcomes for breast cancer in the two health services are virtually the same.
Lung cancer survival rates are much lower in Wales (5%) than they are in England (13.5%).
The other problem with looking at survival rates to assess which health service is doing "better" is that a good deal of this will be down to demographics rather than how effectively the NHS is treating patients.
Areas with higher levels of smoking or deprivation, for example, have worse cancer outcomes, and this is a variation you see between areas within both England and Wales, as well as when comparing the two nations.
The Nuffield Trust compares north-east England with Wales because the demographics are more similar.
The other thing you can look at is waiting times for treatment.
Getting treated sooner can lead to better outcomes if it prevents the disease from spreading.
It can also provide insights into how efficiently the respective health services are running.
But again, when it comes to looking at waiting times, direct comparisons are not always possible because targets and data collection methods differ between the two nations, as do the demographics of the people being treated, with the legacy of declining heavy industry in Wales making a big difference to the population's health profile.
NHS England's target is that at least 96% of people should begin treatment within 31 days of receiving their diagnosis.
In the first three months of 2016, this target was met, with 97.7% of people beginning treatment within this timeframe.
Also, 81.4% of people had their first treatment within 62 days of being urgently referred for suspected cancer by their GP.
NHS Wales has a different target, which is that 95% of patients who have an urgent referral for suspected cancer through their GP should receive their first treatment in 62 days.
In May, the Welsh health service missed this target, with 89% of all patients beginning their treatment within this target time.
But it is still doing better than England at treating people within two months, which is seen by many as a key benchmark.
In Wales, 98% of patients diagnosed through other routes, for example going to accident and emergency units with symptoms, started definitive treatment within 31 days of a diagnosis.
UPDATE 2 August - Changes were made to clarify how the five year survival statistics are calculated in England and Wales.
---
---