Briton charged with trafficking 100kg of cocaine into Kenya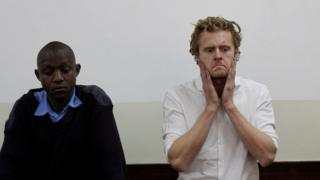 A British man has appeared in court accused of trafficking nearly 100kg (220lbs) of cocaine into Kenya.
Jack Alexander Wolf Marrian, a sugar trader who lives and works in the country, denied the charge at a court in Kenya and was remanded in custody pending a bail hearing on Monday.
A Kenyan national, Roy Francis Mwanthi, also denies the charges.
The pair were charged after drugs said to be worth about £4m were found in a container at the port of Mombasa.
The shipment had come from Brazil and was on its way to Uganda when it was found by Kenyan authorities and US Drug Enforcement Agency officials, the court heard.
Details of Mr Marrian's age, where he comes from in the UK, or how long he has lived in Kenya are not known.
Cocaine seizures are rare in Kenya, but the United Nations says it has become a hub for smugglers over the past few years on the route from South America to Europe and Asia.
There was uncertainty over a third suspect, another Kenyan, who was initially questioned by police when the drugs were found, BBC News Africa correspondent Alastair Leithead said.