'Zombie knives' ban to come into force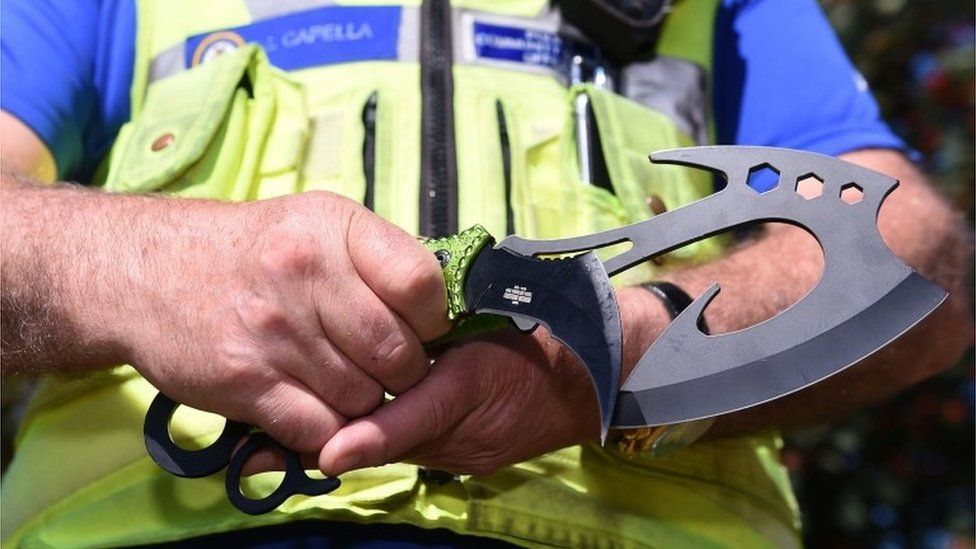 A ban on the sale of so-called "zombie knives" is set to come into force in England and Wales later this week.
Inspired by horror films, the curved blades with serrated edges are often sold as collectors' items, but police say they are increasingly being carried by criminals.
Last year a north London teenager was killed with one of the weapons.
Safeguarding minister Sarah Newton said the ban would "keep communities safe".
Sold under brand names like "head splitter" and "zombie killer", the weapons can be bought on the internet for as little as £8.
Product descriptions suggest they are for use in horror-film situations like "defending yourself from the undead", or as part of an "apocalypse kit".
The new legislation, banning the sale, manufacture, rental or importation of zombie knives will take effect on Thursday. Anyone caught breaking the law will face up to four years in prison.
What are 'zombie' knives?
In May 17-year-old Blaise Lewinson was jailed for manslaughter after stabbing teenager Stefan Appleton to death with a zombie knife in Islington, north London.
Following the conviction the Metropolitan Police issued guidance about "zombie" knives:
There is no specific shape or style, but they are very ornate and intended to shock
In varying lengths and often with a serrated edge, the knives carry logos or words that glamorise and promote violence
They can cause greater damage due to their size
They are being sold as collectors' items online and in some shops
Ms Newton said "zombie killer knives" glamorise violence, cause devastating damage and have "no place whatsoever in our society".
Alf Hitchcock, Chief Constable of the Ministry of Defence Police and lead on knife crime at the National Police Chiefs' Council, said police were pleased that legislation had been introduced "early" to tackle the "growing problem" of zombie knives.
He said the "vast majority" of knife crimes involved kitchen knives, but zombie knives had "suddenly become very popular as a sign of bravado in gangs".
"In weapons sweeps we've been finding these weapons on the street, hidden in places for use," he said.
"When we've seen gang videos being uploaded on to the internet they've been bragging about having these knives."
Her son was not killed with a zombie knife, but she said she was "terrified" when she first saw one, and said young people could "easily" buy them online.
Legislation 'rushed' says collector
Adam, from Coventry, used to collect knives and said they were "never weapons or things of intimidation but beautiful things to look at and appreciate".
He said there was no "single shape or style" for zombie knives, so a "wide description" would apply.
"While I do welcome the law to take these dangerous, ugly weapons off the streets, I worry how many other legitimate collectors will find huge parts of their collections now classed as illegal by a badly worded and rushed bit of legislation," he said.
"Legitimate collectors such as myself can end up with weapons that suddenly become illegal when the laws change like this.
"The only way to get rid of them is to wait for a knife amnesty.
"I have taken some weapons to the scrap metal dump in the past but even then you have to leave the house with an illegal weapon. It puts us in a very difficult situation."
Morris Bright, of the Local Government Association, said the ban would "help reduce the number of lethal blades in society and stop online retailers unwittingly fuelling criminal activity".
"An industry-backed code of practice on the naming, promotion and packaging of all knives also needs to be created - similar to that of the alcoholic drinks industry - which would promote their responsible sale," he added.
The legal change in England and Wales will outlaw selling, manufacturing, renting or importing zombie knives.
In Northern Ireland, Justice Minister Claire Sugden has said action is being taken to ban zombie knives.
A Scottish government spokeswoman said: "While we are not aware of any specific incidents in Scotland of 'zombie knives' being carried or used, we do keep the law in relation to knives under review and will consider carefully whether further steps are necessary in this area."
She said zombie knives were covered by existing laws on possessing weapons in public and restrictions on selling "any knife in such a way which suggests it can be used in combat or violent behaviour".
There has been a 12% decrease in crimes involving knives in the last five years, according to police figures for England and Wales.
There were 214 suspected homicides in England and Wales where a knife or sharp instrument was used in 2015-16. The number of deaths has varied between 187 and 237 in the past five years.