Parents 'struggle' to find holiday care for learning disabled children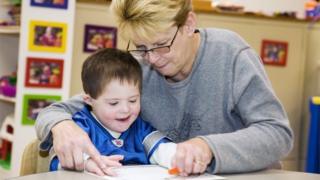 Parents of children with learning disabilities are being pushed "to breaking point" by a lack of support during the holidays, Mencap says.
The charity said access to childcare in the summer break was "insufficient" and "inflexible" in many council areas.
In a survey of 316 parents, 56% told Mencap they struggled to access short breaks and respite services.
The Department for Education said it was doing "more than ever" to support families with childcare.
Almost half of the parents surveyed also said they found it difficult to access daily childcare during the summer months.
---
'Left on your own'
Sharon Preece, whose eight-year-old son Sam has complex needs, including a learning disability, said: "We have found there's been a drastic drop in what's available for families like ours in the summer holidays.
"Not only have services been cut back, the ones that are left have increased in cost. The play scheme Sam goes on has gone from being free to costing £70 a week this year.
"I had to give up work to look after Sam, so the cost of activities has a real impact on what we can afford to do.
"It's also difficult if you run into any problems because the local services are so stretched. Everyone goes on holiday and you're very much left on your own.
"We've been on some great activities in the past that we would never have been able to afford if they hadn't been subsidised. But if all that's going to stop, then we will lose that quality time that other families take for granted."
---
In July 2014, an independent Parliamentary inquiry into childcare for disabled children highlighted serious problems and failings. The report found parents were asked to pay higher than average fees for care and the provision was said to be "patchy across the country and often inadequate".
In a review of the inquiry in 2015, only 21% of local authorities reported having sufficient childcare for disabled children.
Jan Tregelles, chief executive of Mencap, said: "For many parents of children with a learning disability this means nonstop care, 24 hours a day, seven days a week.... Having accessible and suitable childcare on offer can be a lifeline for many families.
"It is unacceptable that, despite obligations, yet again local authorities are still not doing enough to help families who are being pushed into moments of crisis. This needs to change.
"We need to invest in these vital services and ensure equal access to them for children with a learning disability as they can be the difference between families reaching breaking point or not."
A Department for Education spokeswoman said: "We are doing more than ever before to support families with childcare so they can balance work with their family lives - including those whose children have additional needs.
"We're investing a record £6bn in childcare by the end of this Parliament, doubling our free offer for three and four-year olds, which can be used during the holidays."
She said councils also had a "role to play", and must provide "adequate childcare across the year" for children up to 14 whose parents were working, studying or training.