Heatwave? What heatwave? ask rain-soaked parts of UK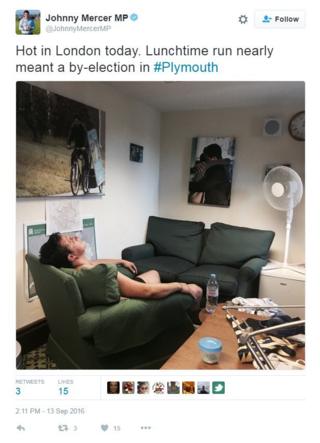 It's 32C in London, and much of England and Wales is unseasonably warm for September.
Whether in bright sunshine or not, temperatures have been pushing the mercury up in excess of what is normally seen this late in the year, including in Andy Brunning's chemistry class in Cambridge.
Even other northern European nations are enjoying a brief Indian summer, as HannyBK illustrates.
However the weather...
However, this has triggered storms across the regions and the remainder of the UK has sarcastically reminded the south-east of England that the hottest September since 1973 does not apply everywhere.
Starting in the south and whipping around and up the west side of Great Britain, thunderstorms and heavy rain have defined the day for many.
Just before midday, Bournemouth on the south coast saw a "great" and "massive" thunderstorm, according to Bournemouth Clocks and Kelly Lucas.
By lunchtime, the damp weather was with Wendy Armstrong on holiday in Cornwall.
And continued across the south-west county from Daisy Griffith, to Jay Wicks in Falmouth, to Budget Food Mummy in Redruth.
From Cornwall, north to Mike in the West Midlands...
...up the road to Sally Egerton in Shropshire...
...over to Martin in Wales...
...on to Kat in Frodsham, Cheshire...
...and across the Mersey to Caroline Hamilton in Liverpool...
...it pretty much bucketed down.
But, not to rub it in, this was the scene in London today from Miles Stowey's viewpoint.