Head of Russian Orthodox Church Patriarch Kirill begins UK trip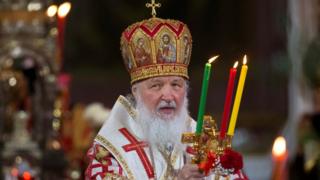 The head of Russia's Orthodox Church is beginning a four-day visit to Britain, in which he is expected to meet the Queen and the Archbishop of Canterbury.
Patriarch Kirill's is the first such visit for many years.
The Orthodox Church says it hopes the visit will help Russia and Britain "strengthen mutual trust".
But BBC Moscow Correspondent Steve Rosenberg, said that at the moment "mutual distrust" characterised the relationship between the countries.
This week UK Foreign Secretary Boris Johnson said he would like to see a protest against bombings of the Syrian city of Aleppo, which are being blamed on Vladimir Putin's forces.
But Moscow, which denies the claims, accused him of "Russophobic hysteria".
The northern Syrian city of Aleppo has become the most high-profile battleground in the country's five-year civil war.
A UN relief convoy was attacked from the air last month - an action widely blamed on Russia, an ally of President Bashar al-Assad.
In an emergency House of Commons debate on Tuesday, Mr Johnson called for those responsible for strikes on the convoy and hospitals in Aleppo to face trial at the International Criminal Court.
Patriarch Kirill is a strong supporter of President Putin, and once described the leader's time in office as a "miracle of God".
His visit marks 300 years of the presence of the Russian Church in the UK, which began with a small Russian embassy church.
The main event of Patriarch Kirill's visit will be the consecration of the Cathedral of the Dormition of the Mother of God in Kensington, west London, following a major refurbishment.