May 'could not intervene in abuse inquiry' while home secretary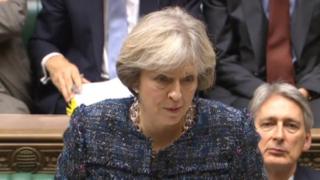 Theresa May has told MPs she was right not to intervene when concerns were raised about the previous head of the child abuse inquiry while she was home secretary.
The PM said she could not step in on the basis of "suspicion, rumour or hearsay" about Dame Lowell Goddard.
The inquiry, set up in 2014, has been beset with controversy.
On Tuesday, new chairwoman Prof Alexis Jay said things would have become "very difficult" if Dame Lowell had not quit.
Three chairwomen in all have resigned and the most senior lawyer working for the inquiry, Ben Emmerson QC, stepped down in September.
Laura Kuenssberg: Who knew what, when?
At Prime Minister's Questions, Mrs May did not confirm when she first became aware of concerns about tensions within the inquiry expressed by a member of its panel, Dru Sharpling.
On Tuesday, Ms Sharpling told a parliamentary committee she informed the Home Office Police and Crime Director General Mary Calam of her worries in April.
However, Ms Sharpling said she asked for this information not to be passed on or acted upon because the inquiry wished to deal with the problem itself.
Mrs May told the Commons: "One of the important aspects of this is that over the years, too many people have had concerns that people in positions of power have intervened to stop them from getting justice.
"There were stories around about the inquiry and about individuals related to the inquiry but the home secretary cannot intervene on the basis of suspicion, rumour or hearsay."
Who is Justice Lowell Goddard?
The conversation in April, the PM said, "was asked to be confidential and as far I am aware it was treated as such. I think it is important to recognise that when Home Office was officially notified, it acted."
Labour MP Lisa Nandy, who raised the issue during PMQs, said of Mrs May: "She suggested that she did know of problems but did nothing at all.
"For this investigation to regain the trust of survivors the prime minister must now come clean about what she knew when, and why she failed to intervene."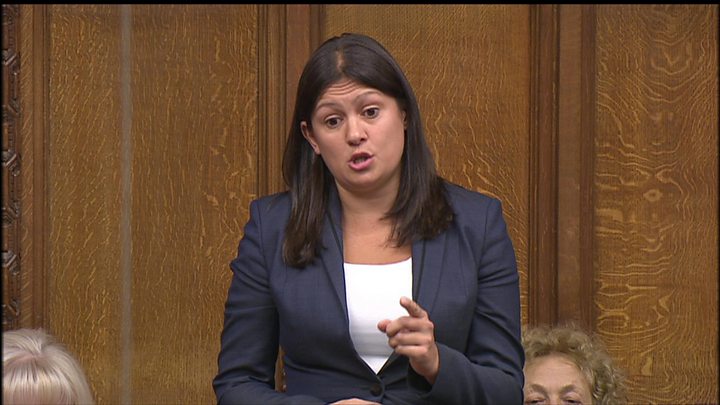 In Dame Lowell's resignation letter, she said the inquiry had a "legacy of failure which has been very hard to shake off".
She has since been accused of using racist language, something she has strongly denied.
Home Office Permanent Secretary Mark Sedwill was informed of the problems relating to the inquiry on 29 July, and the Home Secretary Amber Rudd also became aware.
The government decided not to intervene and the matter was passed back to the inquiry. Dame Lowell resigned six days later.
---
Abuse inquiry: How we got here
7 July 2014 - government announces independent inquiry into the way public bodies investigated and handled child sex abuse claims. Baroness Butler-Sloss chosen as head
9 July - Baroness Butler-Sloss faces calls to quit because her late brother, Sir Michael Havers, was attorney general in the 1980s
14 July - she stands down, saying she is "not the right person" for the job
5 September - Lord Mayor of London Fiona Woolf named the new head of the inquiry
11 October - Mrs Woolf discloses she had five dinners with Lord Brittan from 2008-12
22 October - abuse victim launches legal challenge against Mrs Woolf leading the inquiry, amid growing calls for her resignation
31 October - victims' groups tell government officials they are "unanimous" Mrs Woolf should quit. She steps down later that day
4 February 2015 - Justice Lowell Goddard, a serving judge of the High Court of New Zealand, announced as the new head of the inquiry
13 July - Dame Lowell's pay is revealed as more than £480,000 a year
November - inquiry begins hearing directly from victims and survivors
4 August 2016 - Dame Lowell writes to Home Secretary Amber Rudd to resign from her post
11 August 2016 - Prof Alexis Jay announced as new head of the inquiry
30 September - Ben Emmerson QC, the most senior lawyer working for the inquiry, steps down
---