Police fear gun links between UK crime gangs and terrorists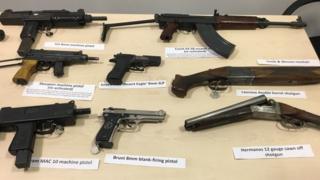 Half of the terror plots prevented in the UK over the last two years involved extremists trying to buy guns, senior police officers have said.
National Crime Agency (NCA) chief Lynne Owens said criminals "think nothing about who they sell firearms to".
UK security services have warned of the growing risk of a marauding gun attack, similar to those in Paris and Mumbai.
A major campaign is being launched to try to clamp down on the supply of illegal firearms.
The NCA said the appeal was aimed at anyone who might see guns smuggled through smaller ports of entry to the UK.
The UK terror level is currently severe - meaning an attack is highly likely.
'Vulnerable, lost people'
Counter-terrorism officers believe the fact Britain is surrounded by water gives police a significant advantage in controlling the flow of guns into the country.
But senior figures say a recent increase in the numbers of guns seized from criminals is making them "anxious".
Ms Owens said preventing the supply of guns has "never been a more significant priority".
"Criminal networks, who think nothing about who they sell firearms to, present a significant route by which extremist groups will try to access the sort of weapons used in recent attacks in Europe."
Some 130 people were killed in gun and bomb attacks in Paris in November last year, while the 2008 Mumbai attacks left 174 people dead, including nine gunmen.
Metropolitan Police assistant commissioner and national policing lead for counter-terrorism Mark Rowley said: "With terrorism you've got some vulnerable, lost people who just get hooked by an ideology.
"You've got some very bright, determined, clear-thinking people who buy into and fully commit and are drivers of Daesh (Islamic State) propaganda and terrorism.
"And then you do get gang members, criminals, people who are already angry, difficult people causing problems in communities who perhaps get given a more clear purpose for their violence by a terrorist ideology, whether they pick that up on the streets or in prison.
"Those gang criminality links are an issue that concerns us and we have seen evidence of it potentially linking firearms into terrorism."
Biggest seizure
Of the estimated 6,000 organised criminal groups in the UK, 750 have access to guns, or are trying to get them.
In July, police intercepted six shotguns and a Heckler and Koch firearm, which were about to be acquired by criminals.
In August 2015, 31 assault rifles and submachine guns were intercepted as they were being unloaded from a small boat in the River Medway, in Kent.
It was the biggest ever seizure of illicit firearms in the UK.
The smugglers had bought guns, which fired blanks, from legitimate small supplier in Eastern Europe but reactivated them before arriving in the UK.