Ethnic minorities 'more likely to be jailed', review says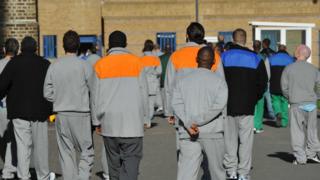 Black and ethnic minority defendants in England and Wales are more likely to be jailed for some crimes than white defendants, a report suggests.
Black men were more than three times more likely to be arrested than white men in 2014, the report found.
The findings are part of a review into race and the criminal justice system, ordered by former PM David Cameron.
Labour MP David Lammy who is leading the review said the findings raised "difficult questions".
The interim report claimed racial disparities were found at many stages of the justice system from arrest through to charging, prosecution and imprisonment.
Twice as many black women were jailed for drug offences in 2014, comparative to the rate of white women, while young black males were more than 10 times more likely than young white males to be arrested for robbery, the report found.
Men from black, Asian and minority ethnic (BAME) backgrounds were also more than 16% more likely than white men to be remanded in custody.
The report notes that "black individuals account for about 3% of the total population of England and Wales yet make up about 9% of defendants prosecuted for indictable offences" at crown court.
Mr Lammy said: "These emerging findings raise difficult questions about whether ethnic minority communities are getting a fair deal in our justice system."
He told BBC Radio 4's Today programme that young black men were too easily pigeon-holed as gang members, which could lead to disproportionately tougher sentences.
"If judges are being told that black young boys are all in gangs, that can be aggravating and lead to a prison sentence.
"If pre-conviction reports are not being done well, are being hurried over 20 minutes and the probation officer has not got a relationship with black and brown people, that also can lead to a longer prison sentence."
David Isaac, chair of the Equality and Human Rights Commission (EHRC) said the findings were "deeply worrying".
"Everyone must have confidence that our justice system treats people fairly, regardless of their ethnicity," he said.
Mr Lammy's final report and recommendations are expected to be presented to ministers next year.