New year fireworks 'show London is open'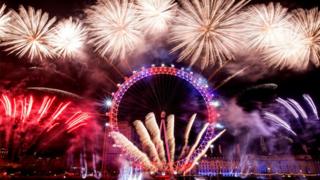 The UK has marked the start of 2017 - with fireworks in London and Hogmanay in Edinburgh among the highlights.
New year events across the country went ahead under tight security, following lorry attacks in Berlin and Nice.
The music accompanying the London fireworks featured a recording of mayor Sadiq Khan saying: "London is open."
Events continued on New Year's Day with a parade in the capital, a charity swim in the Forth and Hull preparing for its stint as the UK's City of Culture.
There was increased security across UK cities on New Year's Eve after terror attacks in Europe in 2016.
News of a gunman who killed at least 39 revellers at a nightclub in the Turkish city of Istanbul emerged in the final hours of 2016.
In London, there were more armed officers, extra concrete barriers and roads were closed off.
Greater Manchester Police increased crowd protection, British Transport Police extended armed patrols on the rail network and there were more armed officers on the London Underground.
In Edinburgh, Hogmanay organisers said the event was a "major success".
About 75,000 locals and tourists watched a firework display and performers including Paolo Nutini, The Charlatans, Fatherson and Be Charlotte.
One organiser, Al Thomson, said: "What a great way to start 2017, the 70th anniversary of Edinburgh becoming a world-leading festival city."
On New Year's Day, some brave revellers then swam in the River Forth in the Loony Dook Swim, a charity dip in the shadow of the Forth Rail Bridge.
In London, party-goers were on the Embankment on Saturday night to watch 12,000 fireworks producing 50,000 projectiles light up the city in a 12-minute display.
Watch a 360-degree video of London's fireworks
Tens of thousands of people gathered on the banks of the Thames to watch the display after Big Ben sounded its midnight chimes.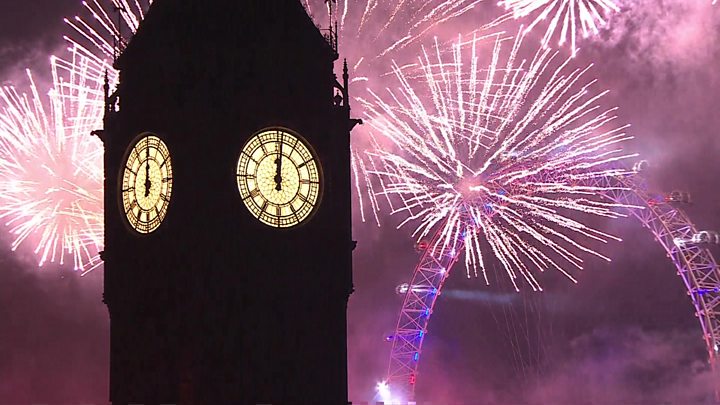 Music for the display also sampled famous artists who died in 2016, including David Bowie and George Michael.
Mr Khan said before the fireworks that their theme would be "hope and optimism going forward".
He added the capital was also sending a message to the world that "London is open", particularly post-Brexit, as part of its New Year's Eve celebrations.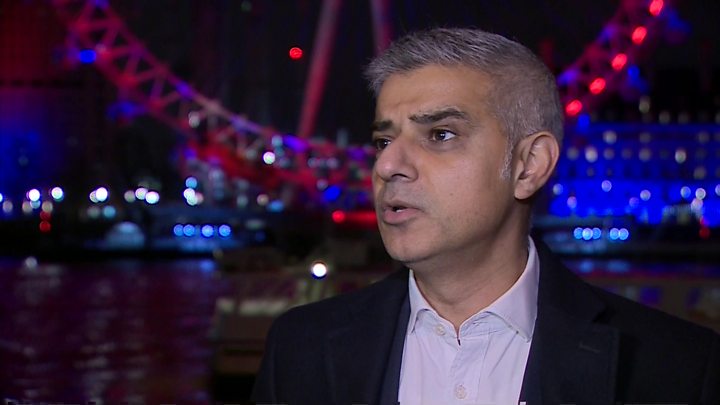 He added: "We've always been a city open to talent, to people, to ideas and that is not going to change."
Singer Robbie Williams staged a live concert from the Central Hall Westminster in London, which was shown on BBC One as part of the new year celebrations.
He sang his most famous hit Angels and his cover of Freedom, in tribute to George Michael, who was found dead on Christmas Day.
But overnight ambulance response times were delayed after technical problems hit the capital's control room.
Calls were recorded using pen and paper for nearly five hours on one of the busiest nights of the year.
London's celebrations continued on Sunday with a hit film-themed parade.
People lined the streets to see 8,500 cheerleaders, marching bands and acrobats from across the globe march through the city.
In what organisers called a "kaleidoscopic" celebration, the themes from Ghostbusters, Skyfall and Harry Potter films were played.
London 0 - Hull 1
In Hull, crowds were expected for evening fireworks to mark the start of the city's year of culture.
Organisers say the show will top London's New Year's Eve display and city buildings will be lit with projections telling its history.
The year's events include the Royal Shakespeare Company taking up residence and Opera North turning the Humber Bridge into a giant musical instrument.
Sixty arts projects will work with local communities and Hull's famous son, Housemartins and Beautiful South frontman Paul Heaton, will play a homecoming gig at the KC Lightstream Stadium in June.