Air pollution 'very high' in England, says Defra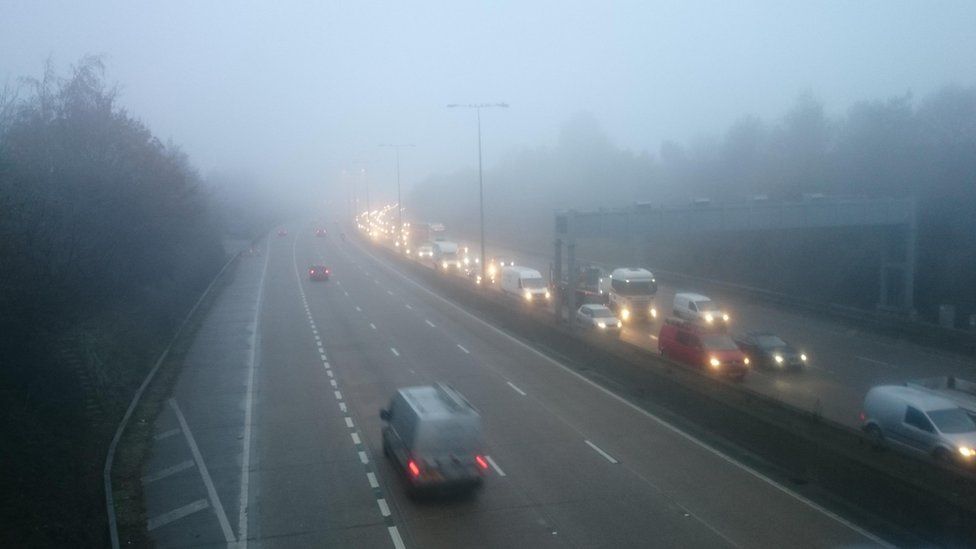 Greater London, the south-east and eastern England had "very high" levels in some isolated pockets, due to high pressure and light winds, Defra said.
People with lung problems, adults with heart problems, or older people should avoid strenuous physical activity in the most badly hit areas, it said.
Northern Ireland, south-west England, West Midlands and Yorkshire and Humberside all had "high" pollution levels in some areas, according to Defra.
By Michelle Roberts, BBC health reporter
Experts say young, fit people are unlikely to encounter any serious short term problems, but some people should take extra care.
Adults and children with lung or heart problems should take it easy and avoid strenuous physical exertion, particularly outside.
People with asthma may be more breathless than usual and need to use their reliever inhaler more often.
Anyone experiencing discomfort, such as sore eyes, cough or sore throat, should consider taking it easy and limiting the time they spend outdoors.
For the latest forecasts and health advice, visit Defra UK Air.
"High" levels are expected to be seen again on Tuesday in many places across England and Wales, with "very high" levels possible again in south-east, central and eastern England, Defra said.
And on Wednesday, moderate to high levels of pollution are expected in southern and eastern parts of England.
The last time "very high" levels were recorded was on 1 December 2016 in two regions.
The government advised people to check its five-day pollution forecasts and to follow Defra's health advice.
Defra has 5,000 monitoring stations across the UK to record pollutant levels in specific locations.
Warnings are being issued at bus stops, roadside signs and Tube stations in the capital under the new alert system he set up.
Air pollution: What you should do
Low pollution (levels 1-3): Enjoy the outdoors as usual
Moderate pollution (levels 4-6): Adults and children with lung or heart problems should consider taking it easy if they experience symptoms
High pollution (levels 7-9): Adults and children with lung or heart problems should reduce strenuous physical exertion
Very high pollution (level 10): These people should avoid strenuous physical activity, while people with asthma may need to use their inhaler more often
In the east of England, the highest levels were recorded in Norwich, but other areas like Luton and Cambridge had very low pollutants.
For the south east region, Chatham in Kent recorded the highest levels, followed by Oxford and Storrington in West Sussex, but Brighton and Canterbury remained low.
And in Greater London, the worst levels were in North Kensington, Marylebone Road and Camden, although areas such as Haringey and Hillingdon had low pollution.
Defra's warnings measure levels of five pollutants: ozone, nitrogen dioxide, sulphur dioxide, and PM2.5 and PM10 particulate matter.
Monday's warnings focus on the levels of PM2.5 - a type of pollution involving fine particles less than 2.5 microns (0.0025mm) in diameter - and PM10 - coarser particles with a diameter of up to 10 microns.
Both particles - which may contain smoke, dust, soot, metals, nitrates, sulphates, water and rubber from tyres - can get into the lungs and potentially cause serious health problems.
Air pollution is linked to the early deaths of around 40,000 people a year in the UK. It also causes health problems, including heart and lung diseases and asthma.
Related Internet Links
The BBC is not responsible for the content of external sites.