Police seize 800 guns in firearms crackdown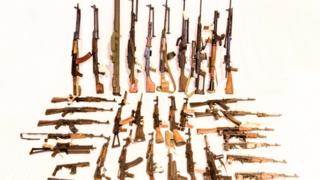 Police have seized 833 guns in Britain as part of an operation aimed at preventing criminals and terrorists gaining access to illegal firearms.
The National Crime Agency and counter-terrorism officers made 282 arrests during a month-long joint initiative that started in October.
Guns seized ranged from pistols to assault rifles and machine guns.
The NCA had worried about criminals' guns falling into terrorist hands but said the links were "tenuous".
The operation had yielded a "handful" of counter-terrorism leads, investigators said.
Of the guns seized, some 379 could be considered viable and 14 non-viable, while a further 440 are awaiting assessment.
Normally about 900 weapons that are capable of being fired are seized in an entire year.