Operation Midland: Cleared abuse investigators 'not quizzed'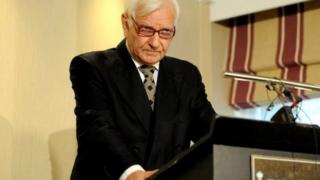 Police watchdog investigators did not speak to three senior Scotland Yard officers before clearing them of misconduct, it has emerged.
The three have been told they will not face disciplinary action for their handling of the Met's Operation Midland inquiry into VIP paedophile claims.
The Independent Police Complaints Commission said there was no evidence of a breach of professional standards.
But ex-MP Harvey Proctor has formally complained to the watchdog.
Mr Proctor was among those cleared of being part of an alleged Westminster abuse ring.
He has said the "bungled and disastrous" police operation - which closed last March without an arrest - ruined his life.
In a letter to the IPCC, he said he was "surprised" by the speed of its inquiry and urged it to fully investigate the 43 errors highlighted by retired judge Sir Richard Henriques in his review of the Operation Midland investigation.
The watchdog told the BBC that none of the exonerated officers were interviewed by IPCC investigators.
It said that, on the available evidence, there was no indication the officers had breached professional standards.
An IPCC spokeswoman said that in making their decisions, they were provided with the full 491-page unredacted Henriques report, as well as lengthy officers' accounts in response to the report.
They also had full access to "extensive" police database records for Operation Midland, and other material from the Met not held on the database, she said.
The watchdog also said the public statement by one of the officers - Detective Superintendant Kenny McDonald - that the allegations at the heart of the case were "credible and true" was not investigated at all because the Met had "not referred" the statement to them for investigation.
The £2.5m Operation Midland investigation began in 2014 after a man known as "Nick" claimed that boys had been sexually abused and even murdered by a group of powerful men from politics, the military and law enforcement agencies.
The abuse was alleged to have been carried out in the 1970s and 1980s.
In November last year the Met apologised to those accused by "Nick" and referred five officers to the IPCC.
On Wednesday, the IPCC said Deputy Assistant Commissioner Steve Rodhouse, Det Supt McDonald and an unnamed detective chief inspector were cleared of causing "prolonged and undue stress" to the accused.
It found the Operation Midland inquiry had been "extensive and carried out diligently", and there was no evidence to indicate "bad faith, malice or dishonesty" by the officers.
The unnamed DCI is still being investigated - alongside two junior detectives - over an alleged failure to present relevant information to a judge when applying for a search warrant.