Rape victims to get pre-trial recorded interview option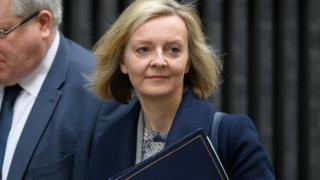 Plans to allow alleged rape victims to avoid cross-examination in front of the accused are being brought forward, the justice secretary said.
Liz Truss said victims of sexual assault would be able to pre-record their testimony from September.
Speaking to the Sunday Times, she said schemes in three cities showed the system led to a higher level of "early guilty pleas".
"It reduces the level of trauma for the victim," she said.
Give victims 'confidence'
In her Sunday Times interview, she said: "I want to see that being the standard offer in those cases and that will give more victims confidence to come forward."
The scheme was piloted for child victims of sexual offences in Liverpool, Leeds and Kingston-upon-Thames.
The government announced its intention to extend the scheme last year, before the latest decision to speed up the reform.
The plans come after Plaid Cymru MP Liz Saville Roberts launched a private members bill to stop alleged rape victims being quizzed about their sexual history or appearance.
Ms Truss said the pre-recorded interviews will provide "much clearer ground rules" to counsel.
She added: "At the moment prior sexual history can only be asked about in exceptional circumstances, but sometimes questions can be asked that verge on that territory.
"If a question is asked that is inadmissible, that can be cut out of the tape by the judge."
The family of a woman who took her own life before her attacker stood trial welcomed the plan.
Victims' commissioner Baroness Newlove said: "Victims have not asked to become a victim of crime so I am pleased the government is strengthening the support available to them in the courtroom."
Ceri Lindon took an overdose days after being kidnapped and raped by fake taxi driver Masood Mansouri in Chester in August 2014.
Speaking to The Sunday Times, the 20-year-old's mother Eleri said: "Ceri was told there was a possibility she would have to give evidence and I'm sure these reforms would have helped her a great deal."
But some have argued this could affect people who are falsely accused of rape.
James Conte, founder of accused.me.uk said: "If you are a wholly innocent victim of someone trying to frame you, you will not welcome these changes because they will increase the chances that you will be wrongfully convicted."
Zoe Gascoyne, chairwoman of the Criminal Law Solicitors Association, told the newspaper that taped interviews before a trial would not take into account real-time developments, and said: "This may be a step too far."
Ms Truss is will set out the bill in the second reading of the Prison and Courts Bill in the Commons on Monday.
The bill includes a new offence of sexual communication with a child, which is intended to target adult groomers.
Those convicted of the offence - which will come into force on 3 April - could face up to two years in prison.