London attack: French students injured on bridge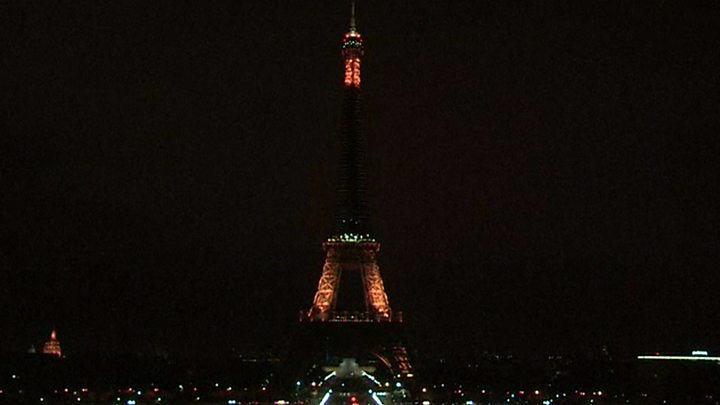 Three French schoolchildren were among those injured when a vehicle hit people on London's Westminster Bridge in a suspected terror attack, the French government has confirmed.
The foreign ministry said they had been on a school trip to London.
Le Telegramme newspaper said they were teenagers from a private high school in Concarneau, north-western France.
Two Romanians, said to be a couple, were injured, and reports say five South Koreans were also hurt.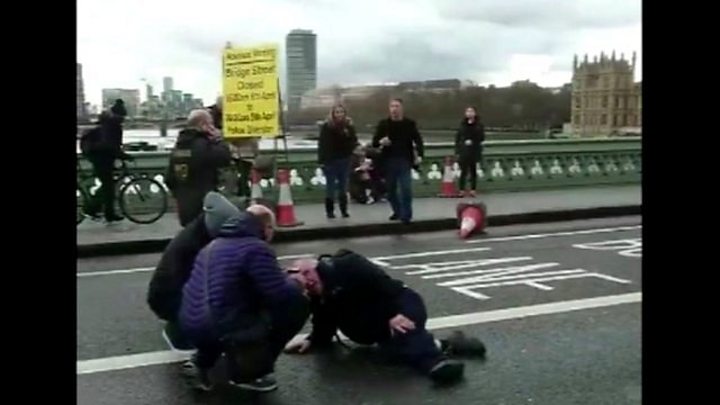 At least two of the French pupils are said to be in a critical condition.
Witnesses quoted by Le Telegramme said one pupil had ended up on the car bonnet.
The families of the three injured students are being flown by a military plane from the town of Lorient to be with them, the mayor of Concarneau, Andre Fidelin, said.
Parents have also gathered at the school, the Lycee Saint-Joseph.
In Paris, the lights of the Eiffel Tower went out from midnight (23:00 GMT) in a tribute to the victims.
Five people, including a police officer and a man believed to be the attacker, were killed and a total of 20 injured in Wednesday's attack near the UK's Houses of Parliament, Scotland Yard confirmed.
The French pupils, aged 15-16, were walking across the bridge when they were hit by the car, Le Telegramme says (in French).
Those of the group not injured were extremely traumatised, the BBC's Nick Robinson said, after meeting them just after the attack.
One of them told him he had seen the car drive into the group.
Pupils who were not hurt were put on a boat for security, after which they were able to return to the youth hostel where they had been staying since Sunday evening, Le Telegramme reports.
The hostel is trying to get them back to France as soon as possible, the paper adds.
The Romanians, named as Andrei and Andrea by English friend Patrick Tracey, were caught up in the attack as they were on their way to the London Eye, Mr Tracey said.
Romania's foreign ministry said they had been taken to a hospital for treatment, without giving further details, the Associated Press reports.
Meanwhile, Yonhap news agency reported that five South Korean tourists were injured, one seriously, in the attack.
It quoted a tour agency official as saying that they were now being treated at two hospitals.
---
Have you been affected by these events? Do you have any information to share? Email us at haveyoursay@bbc.co.uk
You can send your pictures and video to yourpics@bbc.co.uk
You can also contact us in the following ways:
Tweet: @BBC_HaveYourSay
WhatsApp: +447555 173285
Text an SMS or MMS to 61124 (UK) or +44 7624 800 100 (international)