Westminster terror attack: Who were the victims?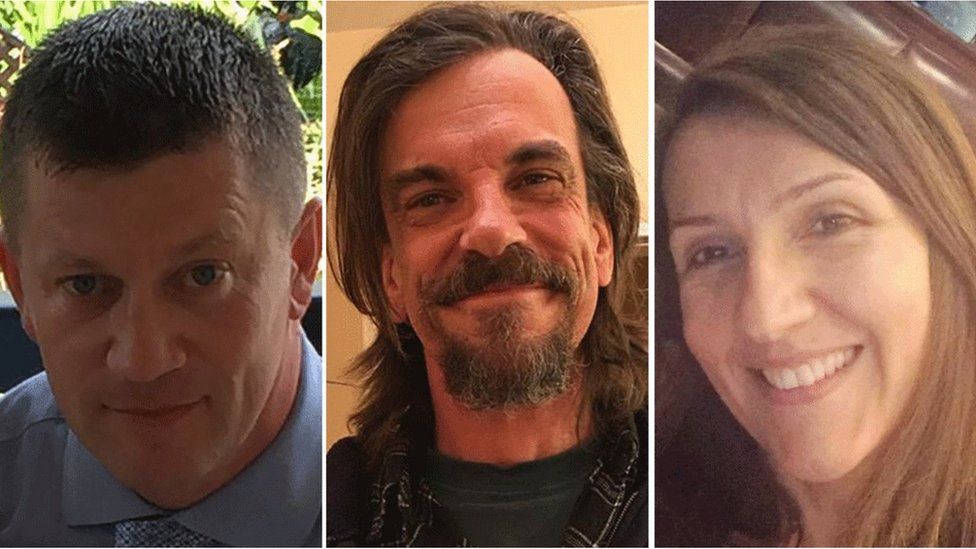 A mother of two young daughters, a retired window cleaner and an American tourist celebrating 25 years of marriage were among the victims of a terror attack in the heart of London.
Five people were killed when Khalid Masood drove his car into crowds on Westminster Bridge and then stabbed a policeman outside the Houses of Parliament on 22 March 2017.
The mother who was 'always laughing and smiling'
Aysha Frade had been walking across Westminster Bridge to pick up her two young daughters from school when she was killed.
She had suffered head and chest injuries and died at the scene.
The British national, 44, worked as a PA at a nearby independent sixth-form, DLD College London.
Ms Frade's husband John said it caused the family "excruciating pain to think of Aysha in the past tense", saying she had been "cruelly and brutally ripped away from us".
He said she was "relaxed, fun to be around, laughing and smiling" and had a smile that was like the sun "popping out from behind a cloud".
'She won't see her daughters grow up'
"Her spirit lives on in the eyes of her children," he added.
Ms Frade's sister, Michelle, said: "People cannot understand how this despicable act of futile atrocity has impacted on not only her families' lives but also herself.
"She will never be able to smile again or see her daughters grow up."
Principal Rachel Borland described her as "a highly regarded and loved" member of staff, adding: "She will be deeply missed by all of us."
Her father was of Cypriot origin, while her mother was from the Galician town of Betanzos in Spain, where her two sisters run an English school, the Voz de Galicia reported.
The retired window cleaner who 'would do anything for anyone'
Leslie Rhodes, from Clapham, south London, had been visiting St Thomas' Hospital when he was hit by the car driven by Masood.
The 75-year-old retired window cleaner was taken to King's College Hospital but died the following day from a head injury.
His niece, Amanda Rhodes, said the family was "devastated" and "incredibly angry" about his death.
She described him as "placid, quiet, and kind", adding that "everyone loved him" and he "would do anything to help anyone who needed it".
Ms Rhodes said he loved his job as a window cleaner and would stop and enjoy tea with his customers before his retirement.
She said: "Les will be greatly missed by all his family and friends who loved him."
Friend Janine Roebuck said Mr Rhodes had been "immensely proud" of having cleaned the windows at Chartwell - the Kent home of Sir Winston Churchill - for "many years".
"He was exceptionally fit for a man of his age. I would turn around and he had bounded up the ladder like someone half his age," she said.
The US tourist who saved his wife's life
Kurt Cochran, 54, from the US state of Utah, was in London as part of a holiday celebrating 25 years of marriage to Melissa, who was seriously injured in the attack.
He died at the scene on Westminster Bridge from multiple injuries.
CCTV footage of the attack, played at the inquest, showed the moment Mr Cochran saved his wife's life by pushing her away from the path of Masood's car before being hit by it himself.
Melissa described her husband as "my inspiration, my rock star, and most of all my hero", adding: "We wish everyone had Kurt's love and compassion for others."
She said: "I was so lucky to have had 25 wonderful years with the man of my dreams. He made me laugh every single day.
"I cherish every single memory we made."
She said she was "forever grateful" for their time together, "and especially his heroic actions on that day, saving my life".
'A genuinely kind human being'
It was the couple's first trip abroad.
They were also visiting Melissa's parents, who work on a Church of Jesus Christ of Latter-day Saints mission, and had been due to return to the US the day after the attack.
Mr Cochran owned Onion Street Studio, a sound-recording studio in his home state.
His friend, Evan Mullaly, told BBC Breakfast: "He was always happy-go-lucky, very passionate about his work in the music industry.
"The kind of guy who would give you the shirt off his back, a genuinely kind human being. It's a tragedy what happened."
The interior designer who 'loved life'
Romanian tourist Andreea Cristea, 31, fell into the River Thames after being driven at by Masood as she walked across Westminster Bridge with her boyfriend, Andrei Burnaz.
She died in hospital just over two weeks later.
Her family described the interior designer as a "lovely, enchanting and life-loving" woman, who had a thriving business.
She had written a note on what would turn out to be her final New Year's Eve, saying the coming year would be "the best of my life".
"I will have a wonderful man by my side, who will love and cherish me and with this man I will start a wonderful family," the note said.
'I had been planning to propose'
Her family said they had been "hoping for a miracle" when she was in hospital following the attack and told of their "heartbreakingly sad" loss when she died.
"All her dreams were shattered when she went on her final trip," they added in a statement.
The couple were in London to celebrate Mr Burnaz's birthday and he had been planning to propose to Ms Cristea that day.
The policeman who joined the Met to 'make a difference'
PC Keith Palmer, 48, was killed as he tried to stop Masood outside the Houses of Parliament.
He was an unarmed member of the parliamentary and diplomatic protection squad, who had served in the Met for 15 years.
PC Palmer, who had a young daughter, died at the scene after being stabbed in the chest. He had been wearing a body armour vest issued as routine to Metropolitan Police officers.
In a statement issued shortly after his death, his family said that they were "shocked and devastated" and he would be remembered as "a wonderful dad and husband".
"A loving son, brother and uncle. A long-time supporter of Charlton FC. Dedicated to his job and proud to be a police officer, brave and courageous. A friend to everyone who knew him.
"He will be deeply missed. We love him so much."
'He died protecting strangers and doing his job'
His sister Angela said he joined the force because he wanted to "make a difference".
She said: "Keith died protecting strangers whilst doing his job and he will be remembered by many for his courage and bravery."
Chief Inspector Neil Sawyer said "his brave actions that day did not surprise me".
"While many would remember him for his "brave actions" and "ultimate sacrifice", Mr Sawyer added: "To me and others he was our dear friend."
A fundraising appeal from the Metropolitan Police Federation in PC Palmer's memory has raised hundreds of thousands, with the money going to his family.
The injured were from all over the world
In total, 50 people were injured in the Westminster attack.
Among those injured were British and Irish citizens, as well as those from France, Greece, Germany, Poland, Portugal, Italy, China and South Korea.
They included three French schoolchildren on a trip to London from St Joseph's School in Concarneau, Brittany, and four politics students from Edge Hill University in Ormskirk, Lancashire, who were on a visit to Parliament.
Two police officers were among those treated in hospital.