Willesden terror raid: Police granted more time to question suspects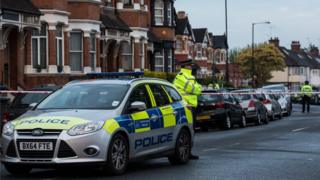 Detectives have been granted more time to question three teenagers arrested on suspicion of terror offences.
The women - two aged 18 and one 19 - were detained after raids at three addresses in east London on Monday.
Their arrests were linked to a raid in which a 21-year-old woman was shot and injured by armed police in Harlesden Road, north London, on Thursday.
Police said Westminster magistrates granted warrants that will allow the women to be held until Friday.
The three women were detained on suspicion of the commission, preparation and instigation of terrorist acts.
The Metropolitan Police said the arrests were part of an "ongoing intelligence-led operation".
A total of 10 arrests have been made in connection with the Harlesden Road operation, in which police believe they foiled an active terror plot.
Police fired CS gas into the house, which had been under observation in a counter-terrorism operation, just before 19:00 GMT.
The woman shot by police was discharged from hospital on Sunday before being arrested. She remains in custody.
Six other people have been arrested - five in north London and one in Kent. They were aged between between 16 and 43.
They were all arrested on suspicion of the commission, preparation and instigation of terrorist acts and taken to a south London police station for questioning.
One 28-year-old woman has been released with no further action at this time, police said.
Warrants of further detention were granted for the other five on Saturday, allowing police to question them until dates between 2 and 4 May.