#DogsAtPollingStations: Exercising paws and voting rights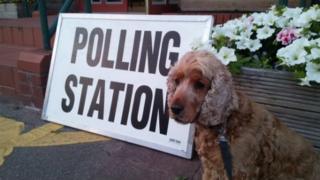 It's the British rite becoming synonymous with elections, taking your dog to the polling booth.
The hashtag #dogsatpollingstations has reappeared on social media today as people across England, Scotland and Wales vote in local and mayoral elections.
Building on trends seen during the 2015 general election and again during the EU referendum, the hashtag has been tweeted more than a thousand times since yesterday.
Since the polling booths opened early on Thursday morning people have been posting pictures of their posing pooches.
You might also like:
The gym class where nodding off is the new working out
Pets on planes - precious cargo
Cheryl names baby Bear and inspires social media jokers
By Rozina Sini, BBC's UGC and Social News Team