Alabama rot: The dog disease with no cure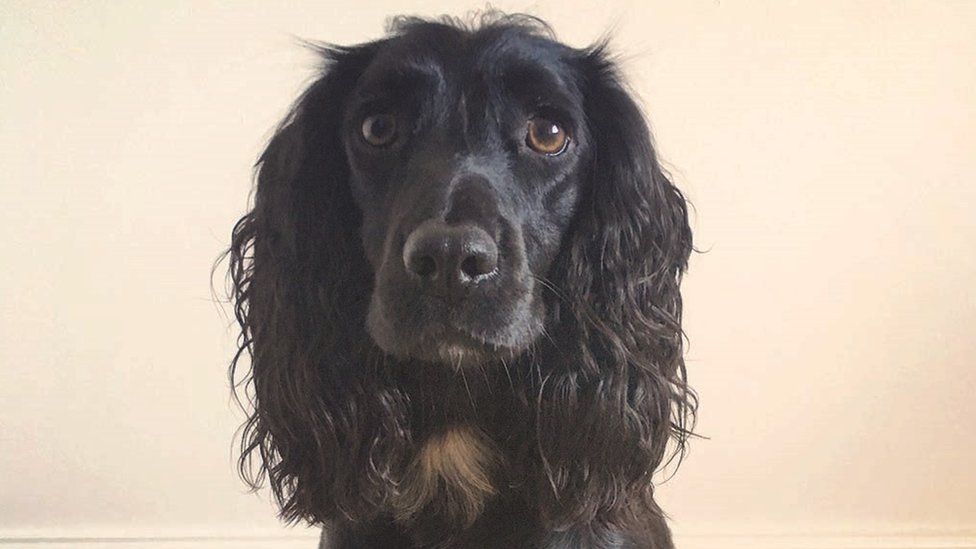 Tearing through woods in Wiltshire was a regular activity for Pippa the Cocker Spaniel - running off her energy amid the trees and mud of the local landscape.
But little did her owner know that just six days later, she would pass away in a London animal hospital having contracted Alabama rot.
The disease was first discovered in the US during the late 1980s, but did not appear on UK shores until December 2012 when the first case was reported.
Since then, 98 dogs have died from it, with 15 cases confirmed already in 2017. Yet, there is still little information on its cause or cure.
Specialists are meeting in Reading for the UK's first conference focused on Alabama rot, as vets, nurses and academics continue to search for the answer to the disease.
Pippa belonged to veterinary nurse Jessica Worthington, who lives in Swindon.
"I had her from when she was an eight-week old puppy," she said. "She was just like her breed, always running around and excited."
Jessica took Pippa and her other dog Molly to woods near the village of Marlborough in December 2015 and let the dogs play, as she had done plenty of other times.
She gave them a good shampoo after to stop her house being covered in mud but noticed something was wrong with her one pet.
"I thought Pippa seemed a little lame so I took her into work with me that night," said Jessica. "Then, the next morning, six or seven lesions had appeared on her feet."
When she checked Molly, she had the same thing.
Cutaneous and renal glomerular vasculopathy (CRGV) or Alabama rot is a serious disease which has only recently been recognised in dogs in the UK.
It causes lesions on the skin and occasionally in the mouth, which can look like bites, sores, wounds or stings.
Some dogs go on to develop life-threatening kidney failure.
It causes tiny blood clots to form in the blood vessels which blocks them and can ultimately lead to damage of the affected tissue.
In the skin, this causes ulceration, but in the kidney it can lead to severe organ dysfunction.
Any age, sex, or breed of dog can be affected and it is fatal in nine out of 10 dogs.
Jessica rushed the pair to specialist vets Anderson Moores, in Hursley, Hampshire, where David Walker leads research in the UK into Alabama Rot.
Within days, Pippa's kidneys and liver were failing and she died at the Royal Veterinary College.
"It was heartbreaking," said Jessica.
"Molly had the exact same treatment and improved. Luckily, she seems to have recovered and is back to her normal self.
"But we will never forget Pippa."
Gabrielle Williams from Magor, in Monmouthshire, South Wales, lost her five-year-old whippet Fleur to the disease in March.
"It started when she was sick one morning," she said. "I didn't think much of it. She was fine the rest of the day and ate her food."
But soon things began to get worse.
"A day after she had an intermittent limp," said Gabrielle. "Then a lesion appeared.
"She deteriorated extremely quickly. They did blood tests and found that her kidneys were failing too. Then more lesions appeared, also in her mouth."
From the first symptom of her being sick to her being put to sleep was just one week.
"It was extremely quick and devastating to see her deteriorate so badly," added Gabrielle. "There was nothing the vets could do."
"Fleur was a fantastic character and losing her has broken my heart. I take comfort in the fact I have my other dogs... but they still look for Fleur and seem lost without her around."
In February, Cathy Moss, from Bournemouth, went through the same experience with her three-year-old Cocker Spaniel Maggie.
They had been for a walk in a forest near her home for a change of scenery and over the next few days Cathy noticed a change in Maggie's behaviour.
"It all happened so quickly," she said. "She was quieter than usual and had lost interest in her food for a couple of days.
"She then started licking her back paw and we spotted a sore, so took her to the vet where they took tests and said it looked like it could be Alabama rot."
Cathy knew the disease could be fatal, but still didn't believe she would lose her.
However, soon after she was transferred to specialists, Maggie's kidneys began failing and they could not save her.
"It's so sad to lose a dog so young," said Cathy. "I would hate for another dog to have to go through this. More research needs to be done."
Anderson Moores vet Mr Walker said he did not want dog owners to panic, as Alabama rot is still a very rare disease, but he called on people to be aware.
"Without us knowing the cause of the disease, it is incredibly difficult for us to give preventative advice," he told BBC Breakfast.
"But I think the best thing that we can tell pet owners is to be vigilant.
"If they see a skin sore on their dog and they don't know why that has developed, they should go and seek veterinary attention. We suspect there is an environmental trigger for this disease, although to date we haven't been able to find one [but if] people want to know the geographical location of the affected cases, then they can look online.
"It probably will help if pet owners can get their dogs to the vet early when they see that skin sore the chances are the outcome might be better. We have got dogs through this."
Related Internet Links
The BBC is not responsible for the content of external sites.