Girl, 11, dies after Drayton Manor theme park fall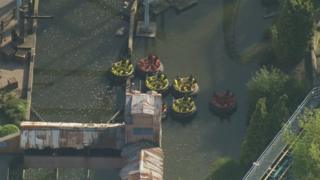 An 11-year-old girl has died after falling from a rapids ride at Drayton Manor theme park.
The Splash Canyon attraction was shut on Tuesday after the girl, who was on a school trip, fell into the water.
Staffordshire Police said the victim, who was a pupil at Jameah Academy in Leicester, was airlifted to Birmingham Children's Hospital at about 14:20 BST.
She was confirmed dead shortly after arrival at hospital.
The park said it will remain closed on Wednesday as a mark of respect to the girl's family.
The Health and Safety Executive has been informed of the incident.
Supt Carl Ratcliffe, from Staffordshire Police, said: "Specially-trained officers are supporting the girl's family at this difficult time.
"Our thoughts are very much with her family and friends following this tragic incident."
More updates on this story and others in Staffordshire
In a statement published on its website, the Jameah Academy, an Islamic girls' school, confirmed a year 6 pupil had died at the park.
"We are liaising with the relevant authorities at this time. Please be assured that the safety and wellbeing of all of our pupils is a priority.
"We would also request that the family, as well as the school community, be given the time to grieve. The school is also providing support to pupils and staff. We are unable to provide any further information at this time."
George Bryan, director of the family-run theme park, said he was "truly shocked and devastated" by the death of the girl.
'Sectioned off'
He said trained staff were immediately called to the scene after the girl fell into the water.
He said his thoughts were with the family and their friends at this "tremendously difficult time".
Caroline Greenway told BBC News she was at the park for her son's fourth birthday.
She said: "We saw the air ambulance fly over as we were in the zoo. When we walked into the park, there was police and security and members of staff surrounding the area."
She added: "Staff looked visibly upset and worried. When I asked if everything was ok, they replied they were unable to comment.
"We were not asked to leave the park, but part of the park near to Splash Canyon had been sectioned off by police.
"When we left the park, we had a clear view of the air ambulance parked up."
West Midlands Ambulance Service said: "On arrival, crews discovered a girl with serious injuries who had been rescued from the water by park staff.
"Ambulance staff administered advanced life support before she was flown to Birmingham Children's Hospital with the doctor continuing treatment en-route.
"Unfortunately, shortly after arrival at hospital the girl passed away."
Fiona Fletcher, who was at the park with her two children, aged two and three, said she saw park staff with "tears running down their face".
She said she overheard staff at the ride saying "don't tell anyone yet" and hurried people out of the area.
"I didn't hear anything [official] until I got into my car because my girls were getting upset so we left," she said.
Philip Atkins, leader of Staffordshire County Council, said: "It is absolutely sad and shocking news to hear how a day of adventure has ended in such tragedy for this young girl, and our thoughts are very much with her family and friends this evening."
Abdul Hasil, 30, from east London, said he was on a day trip to the park and began "panicking" and asking staff what had happened.
He said that not knowing what was going on "increases the panic, especially after what happened with the Smiler at Alton Towers."
Five people were seriously injured in a collision on the Smiler rollercoaster at Alton Towers, also in Staffordshire, in June 2015.
The death at Drayton Manor is thought to be the first at a UK theme park since 2004, when a 16-year-old girl fell from the Hydro ride at Oakwood theme park near Tenby, west Wales.
---
Splash Canyon
The ride opened in 1993
It is described as a river rapids ride on circular boats
It comprises 21 boats with a maximum capacity of six people per boat
There is a height restriction. You must be taller than 90cms (2.9ft) to ride and anyone shorter than 1.1m (3.6ft) must be accompanied by an adult
The 286 acre-theme park was opened to the public by the Bryan family in 1950 and is run today by second and third generation family members
---
Were you at the park? Have you been affected by the incident? Email us at haveyoursay@bbc.co.uk
You can also contact us in the following ways: