Policing cuts: Minister mocked over crime figures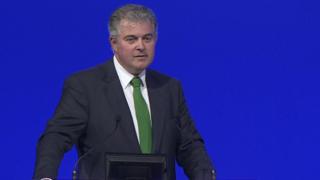 The policing minister has been jeered by officers for saying crime has fallen by a third since 2010.
Speaking at the Police Federation conference in Birmingham, Brandon Lewis said the data measured "traditional" crimes, such as burglary and car theft.
Some delegates responded with shouts and mocking laughter.
But the minister acknowledged recorded crimes had increased, saying it was a "good thing" because it showed victims had more confidence to come forward.
Police Federation chairman Steve White earlier told the conference that policing was in "intensive care... at breaking point" because of deep funding cuts.
Commenting on the 20,000 reduction in officer numbers since 2010, Mr Lewis said: "As these police officer numbers have changed we've actually seen crime fall by about a third since 2010."
At that point there was jeering, shouts and mocking laughter among some of the 420 Police Federation representatives.
Sara Thornton, head of the National Police Chiefs' Council, said local decisions needed to be made about what services police should prioritise and which ones they could no longer provide.
She said that since 2010 - when central government funding to the service was cut by 20% - police workloads had increased and cases had become more complex.
"We need to have an honest debate with the public about the things people cherish," she said.
Her comments chimed with Dave Thompson, chief constable of West Midlands Police, who said officers faced an increasing challenge in dealing with cases of missing people, the elderly and those at risk of abuse.
Mr Thompson said it was right to focus on the vulnerable but that this definition could be extended to include most people at some stage of their lives.
He described it as an "inexhaustible pit of vulnerability" which the service was struggling to deal with.
"You can't keep adding more and more areas of vulnerability," he said.
However, the West Midlands chief constable said there was more scope for efficiencies, saying that people should be encouraged to make online reports and upload photographs and images from crime scenes.
Mr Thompson said he was exploring "self-service" methods of crime reporting in which members of the public submit their own statements for less serious offences such as criminal damage, shoplifting and bilking - where people leave a shop or garage without paying.
At the same conference, Diane Abbott, Labour's shadow home secretary, angered delegates by suggesting that there was no health risk from spitting.
She was addressing the issue of spit hoods, a controversial piece of equipment used by some police forces in the UK to stop suspects from spitting at officers.
She said she had no objection in principle to spit hoods but remained to be convinced of their benefits, adding that support groups working on the issues of HIV and Hepatitis C had told her that neither virus could not be transmitted through saliva.
Federation representatives said the risk was from blood in the saliva and pointed out that being spat at was an assault.
Che Donald, a senior Federation official, said Ms Abbott's comments were "ill informed, out of touch and showed no comprehension of the subject matter".
The Metropolitan Police Federation said 802 officers in the Met were spat at last year, 106 of whom required hospital treatment.