Alps murders: Brother calls for High Court review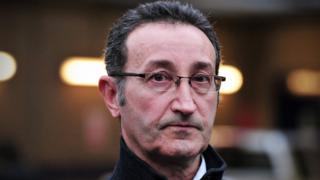 The brother of a British engineer who was gunned down with his family in the French Alps has called for a High Court review into the case.
Zaid al-Hilli said there had been "no progress" in five years of the French police investigation.
The bodies of Saad al-Hilli, his wife Ikbal, and her mother, Suhaila al-Allaf, were discovered on a remote forest road in September 2012.
French cyclist Sylvain Mollier was also killed in the attack.
Zaid al-Hilli told the Sunday Express that a High Court judge should review the case because the French investigation had failed to uncover the truth.
He said: "There has been no progress for years so it is time for a review.
"I do not trust the French police or the prosecutor, so I believe the review should be conducted by a High Court judge."
Mr al-Hilli said he believed the investigation should focus on the killer's other victim, Mr Mollier, who he believed was the real target of the attack in Chevaline, near Lake Annecy.
"My brother and his family were in the wrong place at the wrong time," he said. "They were tourists. They were not the targets."
In 2013 Surrey Police arrested Zaid al-Hilli, who lives in Chessington, as part of the French investigation.
But he was later released, with British police saying there was not enough evidence to charge him.
'Produce the evidence'
French investigators believed that he was motivated by dispute over the inheritance of their parents' home in Claygate, Surrey, where Saad al-Hilli and his family lived until the attack.
Zaid al-Hilli said the claims of a rift between the brothers were unfounded.
He said: "They arrested me and took me to Guildford police station and interviewed me over two days. They were claiming all sorts of rubbish. I said to them, 'Produce the evidence'.
"It didn't worry me because I wasn't hiding anything."
The two daughters of Saad and Iqbal al-Hilli survived the gunman's attack.
Zainab, now 12, was pistol-whipped and shot in the shoulder, while Zeena, eight, survived by hiding under her mother's skirts.