PM accused of 'subservience' to Trump over climate move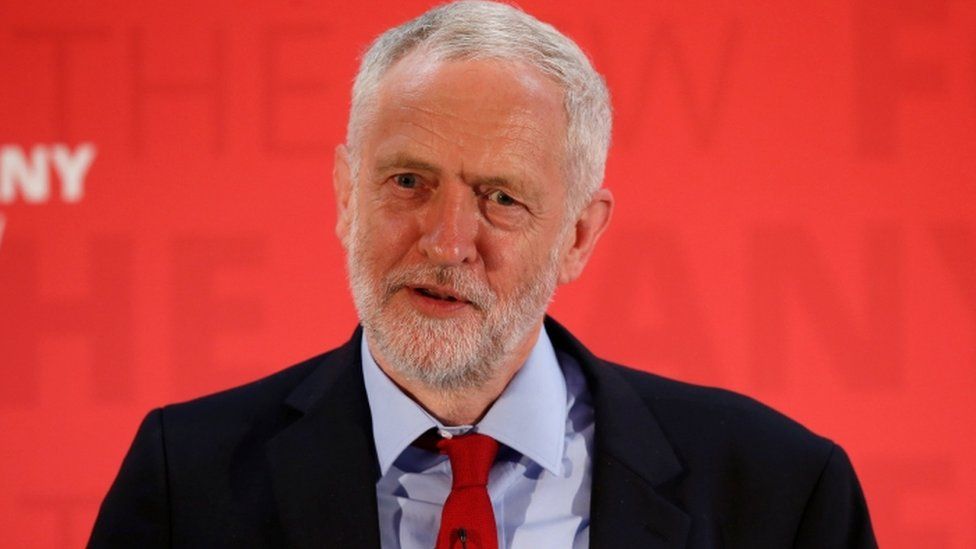 Jeremy Corbyn has accused Theresa May of "subservience" to US president Donald Trump by failing to join fellow European leaders in pledging to keep up the fight on climate change.
Mr Trump's decision to withdraw the US from the 2015 Paris climate agreement has prompted international dismay.
The PM said she had made the UK's commitment to it "very clear" to him.
But Mr Corbyn criticised Mrs May for not signing a joint condemnation from France, Germany and Italy.
Mr Trump said he would try to renegotiate a new, "fairer" climate deal.
However, in a statement, French President Emmanuel Macron, German Chancellor Angela Merkel and Italy's Prime Minister Paolo Gentiloni warned the US president that the Paris Agreement could not be renegotiated.
They said they remained committed to the "irreversible" accord and regarded it as "a cornerstone in the co-operation between our countries, for effectively and timely tackling climate change".
Downing Street said President Trump called Mrs May to discuss his decision to pull the US out of the Paris Agreement.
She said: "I made the UK's position clear to President Trump last week at the G7 meeting as did the other G7 leaders and I made the UK's position clear to President Trump last night.
"Canada and Japan have not signed that letter. Neither has the UK but we all have the same view that we remain committed to the Paris Agreement."
Analysis by BBC assistant political editor Norman Smith
Downing Street have sought to brush aside the criticism of Theresa May's failure to sign the protest letter from other EU leaders.
They say it was drawn up before Mrs May had been able to speak to the president and she wanted to hear his views first before deciding on her position.
They also insist that when she did speak with Mr Trump, Mrs May was "very, very clear" with the president that she opposed his decision and expressed her support for the Paris deal.
It is also pointed out that other G7 countries - Japan and Canada - also declined to sign the letter.
Nevertheless her refusal risks reinforcing the view that Mrs May is deeply reluctant to criticise the president.
In part because of the need for new alliances after Brexit; in part because of the desire for a trade deal with the USA.
Critics fear it is a stance which will only harden EU hostility to Britain and make reaching a Brexit deal even harder.
Mr Corbyn labelled Mr Trump's move to withdraw from the accord as "reckless and dangerous" - and he accused Mrs May of a failure of leadership in not signing up to the statement.
At an election campaign event in York, he said: "Given the chance to present a united front from our international partners she [Mrs May] has instead opted for silence and once again subservience to Donald Trump.
"It's a dereliction of both her duty to this country and our duty to our planet.
"This is not the type of leadership Britain needs either to negotiate Brexit or stand up to defend our planet in an era of climate change."
Defending the government's decision not to sign the declaration, Chief Treasury Secretary David Gauke said on BBC Newsnight: "Different countries will take different approaches in how we choose to express our opinion."
But Lib Dem leader Tim Farron said the prime minister should use whatever influence she has over the US president to prompt him to reverse his decision.
"You have gone to Washington to hold Donald Trump's hand - now is the time to hold his feet to the fire," he said.
Scottish First Minister Nicola Sturgeon, who described Mr Trump's move as "profoundly regrettable", said it was an "appalling abdication of leadership by the PM" not to join her French, German and Italian counterparts in signing the joint declaration.
Green party co-leader Caroline Lucas said Mrs May's "slow and timid" response to the US announcement was another sign of her weakness.
"Once again we're seeing a weak prime minister failing to stand up tall on the world stage in the face of near-criminal behaviour from one of our closest allies," she said.
The Paris agreement commits the US and 187 other countries to keeping global temperatures rises "well below" 2C (3.6F) and "endeavour to limit" them even more, to 1.5C.
Only Syria and Nicaragua did not sign up to the deal.