David Cameron puts his feet up for wedding anniversary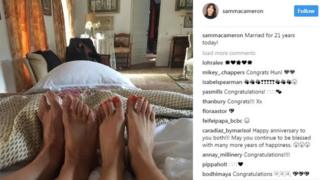 David Cameron and his wife Samantha have marked their wedding anniversary with a picture of their feet.
While his successor Theresa May got to work on the final week of her general election campaign, the former prime minister and his wife were enjoying a holiday in Andalusia, Spain.
Mrs Cameron posted the picture on her Instagram account on Thursday.
She wrote: "Married for 21 years today!"
Many Instagram users congratulated the couple, but not everyone has been so kind. The front page of Friday's Daily Mail declared the picture "toe-curling" and "tacky".
Others have noted how well groomed the pair's naked feet appear.
"Did David get a pedicure too?" asked one Instagram fan.
Mrs Cameron, who launched her fashion label in November, may have taken inspiration from former First Lady Michelle Obama, who posted a similar foot selfie earlier this year to mark Valentine's day .
The former Conservative MP for Witney has taken a break from Westminster, since giving up his seat in September.
Earlier this year, he bought a £25,000 garden shed in which he plans to write his memoirs.
The couple, who married in 1996, were introduced by Mr Cameron's sister Clare, Samantha's best friend, at a party at the Cameron family home.
They have three children. Their son Ivan Cameron, who had cerebral palsy and epilepsy, died in hospital aged six in February 2009.