From surprise to trauma in Manchester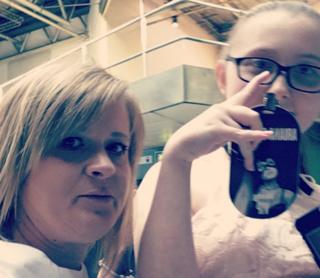 Many people who were caught up in the suicide bombing at Manchester Arena are now enduring the stress of trying to apply for free tickets to the tribute concert on Sunday.
However, one mother and daughter are very happy to have survived.
Yolande Hodgkiss surprised her daughter Aimee at Christmas with VIP tickets to Ariana Grande's concert on 22 May at Manchester Arena.
"Presents for her can be tough as she is in a wheelchair. She had been counting down the days.
"Aimee absolutely loved the concert. She knows all the words to all the songs.
"We had just walked through the foyer and into the lift to the car park when the bomb went off. The doors were open, we saw it all.
"Unbelievably, we weren't hurt but when we came across a young family who were badly injured I couldn't help but stop and assist them.
"Being a nurse it was my natural instinct to try and treat them. I wrapped up the leg of a young woman called Lauren. Her daughter Lilly was unconscious so I checked her pulse and stayed with them until the paramedics arrived.
"On 31 May we finally made contact with each other and we are so pleased they are on the road to recovery. Lauren's mum brought round some flowers. It turns out we live quite close to each other.
"Aimee, who is 18, is fine. She's very strong. The day after the concert she updated her profile photo on Facebook. Fortunately, the happy moments are still in her mind. She has also had the Manchester bee tattoo done.
"I believe the benefit concert is the best thing to help us get over our fears. Well done Ariana and all those who are supporting her on Sunday."
Daughter Aimee was very pragmatic about what happened that evening.
"The concert was amazing. We even went to the sound check before it started. You couldn't fault Ariana. It was also a shock for her.
"I'm not going to lie, it's a bit surreal for me now. When I tell people about what happened, I sometimes think it didn't really happen. When you see these things on the news, sometimes you think people are lying or exaggerating. But this was real. I understand now because I was there and it happened to me.
"My mum looked after an injured woman and her daughter. At first she looked at me, but I told her she should carry on with them because I was fine.
"They're both still in hospital but are doing fine, thankfully. It will take us all a while to process. I think the concert on Sunday will help us to move on.
"We're still waiting to find out if we've been given free tickets. If we go, it will be emotional because we'll be remembering and raising money for a tragedy that happened."
Interviews by Sherie Ryder, UGC and Social News team.