Jo Cox's son made up a song in her memory after she was killed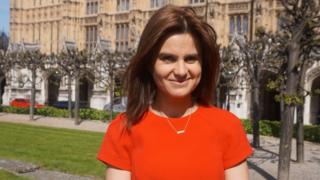 The son of murdered Labour MP Jo Cox made up a song in memory of his mum after being told about her death.
Cuillin, now six, included the lines "I love my mumma" and "We'll carry her in our hearts" in the song.
In a Guardian extract from his book, ahead of the first anniversary of her murder, Brendan Cox has spoken of how he broke the news of his wife's death to his son and daughter, Lejla, four.
Mrs Cox, 41, was shot and stabbed by Thomas Mair on 16 June last year.
The 53-year-old was jailed for life after being found guilty of murdering the mother of two and MP for Batley and Spen, in Birstall, West Yorkshire, a week before the EU referendum vote.
Mr Cox has been speaking about the impact of his wife's death on his family after writing the book, Jo Cox: More in Common, which details their first year without her,
He said the "hardest decision he had to make" was allowing his children to see their mother's body after being persuaded by child grief experts.
He believes it was "definitely 100% the right decision" as it helped them process the reality of his wife's death and accept "that she was gone".
Street parties planned for Jo Cox
Brendan Cox: The kids are strong
Mr Cox has described the moment he told his children that their mother had died.
In the extract from the book in the Guardian, he said: "It was almost unbearable to end the charmed innocence of their lives.
"I hated what I had to do, I hated myself for having to do it.
"They absorbed the truth in different ways. I felt heartbroken for my children, but also determined to keep these shattering moments to ourselves."
Mr Cox said he had to explain to his son and daughter he could not "dream up a way to bring mummy back" or make a new version of her "out of wood".
Instead, Cuillin made a song up for his mum and the children wrote down special memories of her which were hung from an apple tree.
Mr Cox said he has made a real effort over the past year to ensure they feel "secure emotionally" and he "never wants them to live in fear".
He admits his children have asked him about Mair and he explains to them he was a "nasty man" who did not want their mum to "help people different from him".
Mr Cox has said he thinks about his wife almost "every minute" of the day but does not want what's happened to "ruin my kids' lives or my life".
He added: "So I'm very keen to be happy. But it is easier said than done".