London attack: The locals who offered shelter to strangers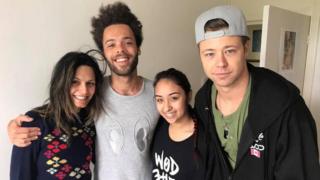 Ryan Sherman and Farah Dib are among many Londoners who used social media to invite strangers to stay with them in the aftermath of the London terror attack.
The pair say they are "still in shock" at the events that unfolded near their Borough home on Saturday but "didn't hesitate" to help.
Their offer of shelter in a Facebook post was taken up by a family of Canadian tourists, who had been forced to evacuate their nearby flat.
Others offered places to stay using the hashtag #SofaForLondon, which was trending on Twitter as news of the attack unfolded.
Days earlier, #RoomForManchester was trending after the explosion at Manchester Arena on 22 May.
"They were obviously quite shaken," says Ryan. "We set up beds and made them tea and they were getting calls all night."
Ryan, 24, and Farah, 28, had earlier struggled to get home for the night when transport in the area shut down.
"We were apprehensive about going home," says Ryan.
"Our taxi driver put BBC radio on and reporters didn't know what was happening."
The pair used Facebook's safety check feature, which lets users offer a place to stay as well as marking themselves safe.
"We didn't hesitate since we were so close to the incident and had two spare rooms," Ryan says.
"In these situations, you're often left feeling helpless by watching the news on TV."
Within minutes, Emmanuel and Myra Pachecho, their daughter Jenalyn and her dance partner Luka, from Ontario, contacted the couple.
They had fled their rented flat on Borough High Street without taking their belongings and were turned away from a nearby hotel.
Later, Mr Pachecho posted on Facebook: "Traumatic experience turned into a real show of humanity at its finest in London.
"So sad for the victims and people of London. There is good in the world."
His daughter Jenalyn, 16 and Luka, 19, were in the UK for a dance festival in Blackpool and were due to fly home on Sunday.
"The Pachechos are such wonderful people, they gave us a Canadian flag with messages of thanks on it," Ryan says.
Ryan said locals were "getting back to normal".
He said: "Everyone is shaken, but people aren't letting it affect how they live. We are still going to enjoy our time in Borough Market."