London fire: Families given £200,000 from emergency fund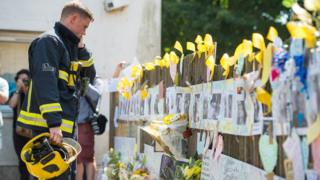 More than £200,000 of a £5m emergency fund has so far been given to families affected by last Tuesday's fire at Grenfell Tower in Kensington.
As of Monday, 180 families directly affected by the blaze had received money, the Grenfell Response Team said.
The GRT, which is organising the relief effort, said 78 families were on course to be rehomed locally by Monday night.
Police have named five victims of the fire - 79 people died or are missing presumed dead after the blaze.
Anthony Disson, 65, Ya-Haddy Sisi Saye, 24, also known as Khadija Saye, and Abufars Ibrahim, 39, and Khadija Khalloufi, 52 - were identified on Monday.
Mohammad Alhajali, 23, was the first victim to be formally identified.
Of those who were injured, 17 people remain in hospital, with nine in critical care, according to NHS England.
So far 126 hotel places have been found for residents of Grenfell Tower and Grenfell Walk.
The GRT, which includes local and regional government from across London, central government, the British Red Cross, Met Police and London Fire Brigade, said in a statement that "we completely accept residents' wishes to remain close to the community".
It went on: "Work is taking place to assess the housing needs of all Grenfell Tower and Grenfell Walk families to identify suitable accommodation in Kensington and Chelsea and neighbouring boroughs."
Of those who were due to have been rehoused, the GRT said they would be living in Kensington and Chelsea or a neighbouring borough.
The government has pledged to give £5,500 to all of those who lost their homes.
Each household will receive at least £500 in cash and £5,000 paid into an account as part of a £5m emergency fund first announced on Friday.
The fund for affected families, which was announced by the prime minister on Friday, will also:
Help people having to stay in temporary accommodation
Help meet funeral costs
Cover legal representation for residents involved in the public inquiry
An extra £1.5m will also pay for mental health support for the emergency services
Meanwhile, the BBC has learned that four separate government ministers were warned that fire regulations were not keeping people safe.
In leaked letters seen by BBC One's Panorama, experts warn that those living in tower blocks like Grenfell Tower were "at risk".
The Department for Communities and Local Government, which received the letters, said work to improve regulation and safety had already been under way.
'Devastation'
Police have warned the final number of victims from the fire in the 24-storey block could still change.
Commander Stuart Cundy said his priority was to identify the people who died in the building and to remove them as quickly as possible.
But he warned that not everyone would be identifiable and the operation would take "many, many weeks".
"This is an incredibly distressing time for families," he said. "It is really hard to describe the devastation the fire caused."
Cdr Cundy said there may have been people inside the building that they did not know were there, but there also could be people who were reported missing and managed to escape.
He urged those people to make themselves known to the authorities.
The Met has also promised a "wide ranging" investigation into the blaze which will look at the construction of the building, the recent refurbishment, how it was managed and maintained, and fire safety measures.
"I would like to reassure everybody that we will be looking at all criminal offences that might have been committed by any individual or any organisation," said Cdr Cundy.
"Where offences have been committed, I will do everything in my gift to make sure they are brought to justice."
A minute's silence was held at 11:00 BST on Monday across the UK to remember the victims.
Get news from the BBC in your inbox, each weekday morning
Have you or your family been affected by the fire at Grenfell Tower? If you are willing to speak to a journalist you can email us at haveyoursay@bbc.co.uk
You can also contact us in the following ways: