Westminster knife incident: Man charged with assault and possession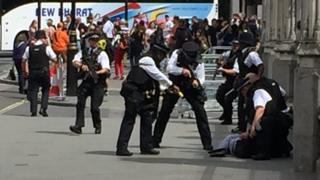 A man has been charged with possessing a weapon and assaulting a police officer outside Parliament last Friday.
Eniola Mustafa Aminu, 27, appeared at Westminster Magistrates' Court after a mental health assessment.
It comes after a man was Tasered outside the Carriage Gates at Westminster on Friday morning.
Security at Westminster has been increased since March's Westminster Bridge attacks, in which five people were killed.