Finsbury Park attack: Prince Charles delivers Queen's message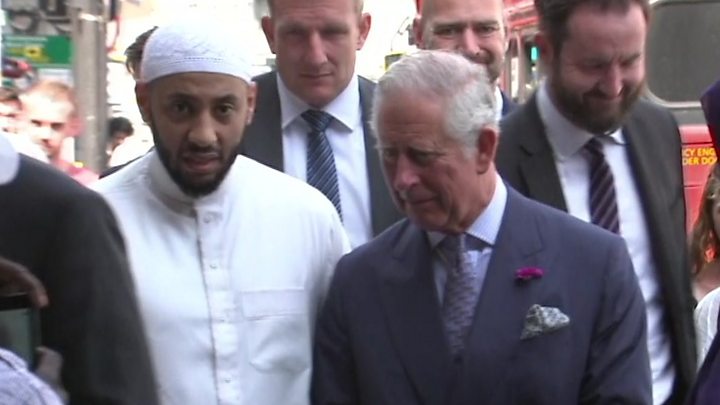 Prince Charles has visited north London to hear about the response to Monday's terror attack, and delivered a message from the Queen.
"Her Majesty's thoughts and prayers are with you all," he said.
Meanwhile, a post-mortem examination has been carried out to determine the cause of death of Makram Ali, 51.
Mr Ali had already been taken ill when a van was driven at him and a group of people gathered near a mosque in Finsbury Park after Ramadan prayers.
The group were trying to help Mr Ali, who had collapsed outside the Muslim Welfare House.
Met Police Commissioner Cressida Dick said detectives were continuing to try to find out how Mr Ali died.
Speaking at the Muslim Welfare House the Prince of Wales said he felt joy at being with them "despite the very sad, unfortunate circumstances" and that he remembered visiting 30 years ago.
He said: "The Queen has specifically asked me to tell you how shocked she was by what happened, particularly as the victims were worshippers who had been attending Ramadan prayers - and Her Majesty's thoughts and prayers are with you all."
He added that he was "deeply impressed" by the imam who shielded the suspect until police arrived.
"Thank goodness we have wonderful leaders", he added.
Mr Ali was pronounced dead at the scene and paramedics took nine people to three London hospitals while two others were treated for minor injuries.
Earlier Ms Dick told the London Assembly's police and crime committee: "We continue our investigation to establish exactly how he came to his death.
"We have carried out a special post-mortem and we are working very closely with his family and with all the people who were affected, and their families."
Police have been granted a warrant to hold Darren Osborne, 47, from Cardiff, until Saturday. He was arrested on suspicion of commission, preparation or instigation of terrorism, including murder and attempted murder.
The father-of-four was described by relatives as having been "troubled for a long time".
In a statement, his family said: "We are massively shocked. It's unbelievable. It still hasn't really sunk in.
"We are devastated for the families. Our hearts go out to the people who have been injured."
The terror attack happened shortly before 00:20 BST on 19 June when a hired vehicle mounted the pavement outside Muslim Welfare House, which is also a community centre, on Seven Sisters Road.