Grenfell Tower: Fire started in Hotpoint fridge-freezer, say police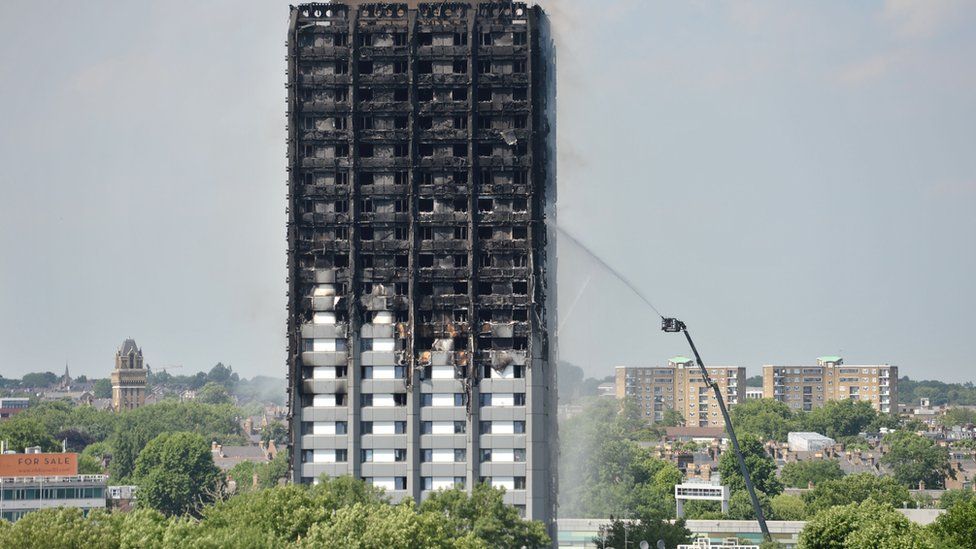 The Grenfell Tower fire in London started in a fridge-freezer, and outside cladding and insulation failed safety tests, police say.
The Metropolitan Police say manslaughter, health and safety, and fire safety charges will be considered.
A total of 79 people are feared dead after the blaze destroyed 151 homes in the Kensington tower block and nearby.
In Salford, cladding is to be removed from nine of its residential tower blocks because of safety concerns.
The city's mayor Paul Dennett said: "Government tests are under way but is already clear the cladding on our blocks must be removed. There will be no waiting around... while there are any questions about the safety of our residents."
Meanwhile, the government has ordered immediate testing of the Hotpoint fridge-freezer that was involved in the Grenfell fire. The model was manufactured between 2006 and 2009.
Whirlpool, which acquired the Hotpoint brand in 2014, said: "We offer our most profound condolences to the victims, those who have lost loved ones, homes, and possessions, and to their friends and families."
Nine of those who died on 14 June have been formally identified so far. Nine people remain in hospital, with three people still in critical care.
Police said the fire had not been started deliberately and the speed with which the fire spread was "unexpected".
A national operation to identify buildings with cladding similar to that used in Grenfell Tower has seen local authorities send samples for independent tests.
The Department for Communities and Local Government said 14 residential high-rise buildings in nine local authority areas have now been found with cladding that raises safety concerns.
The buildings identified are:
Five high-rise blocks on Camden Council's Chalcots estate in north London where officials are preparing to remove cladding
Braithwaite House, one of eight blocks tested on an Islington Council estate
Denning Point tower block in east London where Tower Hamlets Council said the cladding "did not fully comply" with requirements
The Village 135 development in Wythenshawe, Greater Manchester, where 78 panels were being removed from one area of the site
Clements Court tower in Cranford, west London, where Hounslow Council says it will remove the outer cladding from the building
The Department for Education said all bodies responsible for safety in schools in England are being instructed to carry out checks to identify any buildings that may require further investigation.
One building is being checked in Northern Ireland as a precautionary measure.
But no buildings giving cause for concern have been found in Wales, while the Scottish Government said no council or housing association high-rise block in Scotland had cladding of the type used in Grenfell Tower.
The Metropolitan Police said four more victims - three men and one woman - have been formally identified.
But a spokesman said: "We have not named the victims or issued further details on request of the families. The families of all these victims have been informed."
Preliminary tests on the samples of insulation showed it burned soon after the test started, and more quickly than the cladding tiles.
However, they both failed the police's safety tests - which are similar to those being carried out by the UK government.
Some 250 specialist investigators have been deployed to find out what happened.
Every company involved in the building and refurbishment of Grenfell Tower will also be looked at as part of the investigation.
Det Supt Fiona McCormack said all criminal charges are being considered "from manslaughter onwards".
She said officers had been in the tower "from top to bottom", adding that next week a lift would be installed to the outside of the building.
She added the forensic search "may not be complete until the end of the year".
"There is a terrible reality that we may not find or identify everyone who died due to the intense heat."
What do I do if I have a Hotpoint fridge freezer?
By Kevin Peachey, BBC News
Anyone who has a white Hotpoint fridge freezer model number FF175BP or graphite fridge freezer model number FF175BG should register their appliance with the manufacturer to receive any updates.
Generally, the model number is found on a bar code on a sticker behind the salad container in the fridge.
These models were manufactured between March 2006 and July 2009. About 64,000 were sold but it is not known how many are still in use.
Fires connected to fridge freezers and other electrical appliances are relatively common.
Det Supt McCormack says the tests carried out on the cladding and insulation were "small scale" but added: "All I can say at the moment is they [the tiles and insulation] don't pass any safety tests."
The cladding, insulation, fixings and installation will be examined, both individually and in terms of how they worked together.
"The investigation will be exhaustive," said Det Supt McCormack.
"As we learn more, the scope and scale may well grow. We will look at the refurbishment. We are looking at the panelling and the entire facade of the building."
She said she wanted to hear about anyone who was in the tower, whether or not they were meant to be in the building.
She said: "I do not want there to be any victims of this tragedy that we do not know about.
"Our priority is to understand who was in Grenfell Tower. We are not interested in people's reasons for being in Grenfell Tower."
She said she was concerned they did "not have the complete picture" and reassured people not to be nervous about contacting them.
"There may well be people who no one has contacted us about - who they know were in the building or have close links to Grenfell Tower.
"The Home Office has assured us that they are not interested in people's immigration status and we are not interested in looking at that.
"What we are interested in is making sure that we know who is missing and we take every possible step to establish if they are safe and well."
Whirlpool said it was working with the authorities to obtain access to the appliance so that it could assist with the ongoing investigations.