Cladding fire tests failed by 34 blocks in 17 areas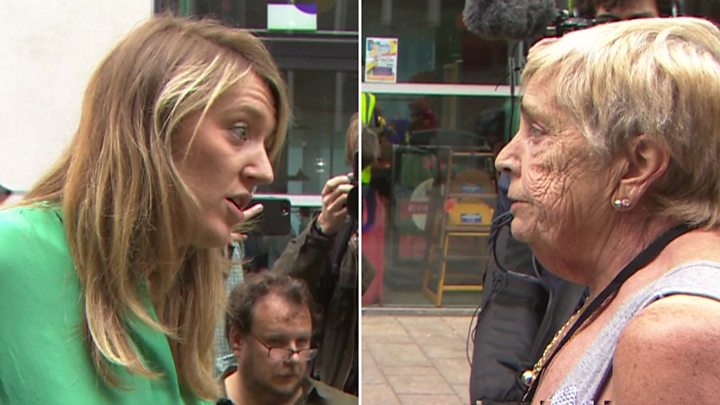 Cladding on 34 tower blocks in 17 council areas in England has failed fire safety tests, the government says.
So far, every sample has failed the tests. The government plans to examine cladding from up to 600 blocks.
The updated figures came as people from the Chalcots Estate in Swiss Cottage, north London, spent a second night away from their homes.
But - across the country - not every block that fails safety tests will be evacuated.
Four of the five blocks on the Chalcots Estate were evacuated on Friday because of fears over cladding, gas pipes, and fire doors.
Camden Council said it had no option but to move residents from 650 flats while work takes place.
Accommodation offers
Council leader Georgia Gould said staff would continue asking those who had not yet left to vacate their flats.
"By remaining in the blocks these residents risk delaying the work that is required and that we are undertaking to make these homes safe.
"It is not safe to remain in these blocks and our residents' safety will continue to be the council's number one priority."
Almost 200 offers of accommodation have been made to displaced residents, and most of these have been taken up.
Communities Secretary Sajid Javid - while agreeing with the decision in Camden - said: "A failure in testing of the cladding does not necessarily mean that a building will have to be evacuated.
"The decision by Camden council was because the failed testing of the external cladding was compounded by multiple other fire safety failures."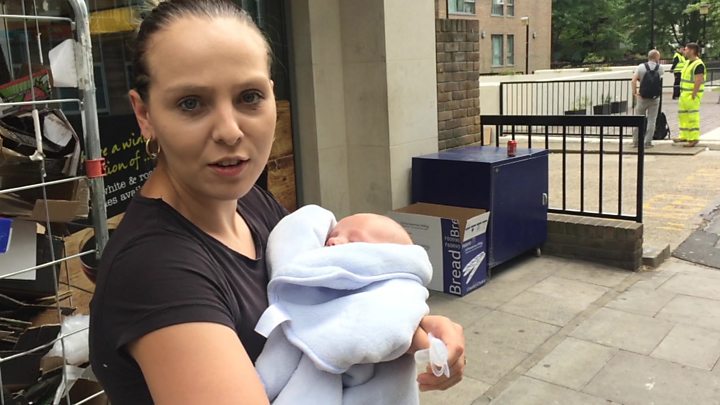 Plymouth is one of the affected areas. The elected leader of the city council, Ian Bowyer, said: "We are not proposing to evacuate...
"The failures that have been attributed to the blocks in Camden are not present here in the three tower blocks in Plymouth."
The Local Government Association said some councils have introduced 24-hour warden patrols to mitigate the risk before cladding is removed.
The Department for Communities and Local Government's testing programme, which began on Wednesday, is able to test 100 samples a day.
If needed, further lab capability could be provided. Mr Javid said testing was taking place "around the clock".
Although every sample has failed the test so far, he pointed out that local authorities have been asked to prioritise buildings they had most concern over.
Seven of the 17 local authorities where high-rise buildings have failed fire safety tests have been named. They are:
Camden - where residents have been evacuated from four blocks on the Chalcots Estate
Brent - where a housing association tower block, Elizabeth House, has cladding but London Fire Brigade advises it is not a risk
Barnet - where cladding put up on three towers in Granville Road, NW2, in 2012 is to be removed as precautionary measure
Hounslow - where Clements Court tower in Cranford is to have outer cladding removed
Manchester - where 78 panels are being removed from one area of the Village 135 development in Wythenshawe
Salford - where cladding is also to be removed from nine tower blocks
Plymouth - where three blocks on the Mount Wise Tower estate were found to have cladding made from similar material to Grenfell Tower
Portsmouth - where the city council is removing cladding from Horatia House and Leamington House in Somerstown
The Chalcots Estate's cladding is similar to Grenfell Tower in North Kensington, west London, where a fire is feared to have killed 79 people.
Chalcots was refurbished between 2006 and 2009 by the same firm, Rydon, that oversaw work at Grenfell Tower in 2015-16.
After the evacuation, emergency accommodation was set up at Swiss Cottage leisure centre and at the Camden Centre in King's Cross.
Camden Council - which said it already spent £500,000 on hotel rooms - said it would reimburse residents who have paid for their own temporary accommodation.
It has also set aside £100,000 for food and essential items for displaced residents.
The work at Chalcots is expected to take three to four weeks.
Sayed Mead, a resident on the estate who left his flat, told BBC Breakfast that not knowing where he was going to be housed had been "eating me away".
He was eventually told at midnight on Saturday where he and his mother can stay, and said it felt like "I'm going to start my life all over again".
He also said the council had created "panic" among the residents.
Despite being urged to leave, around 20 households had refused to vacate their homes by Saturday evening.
Labour leader Jeremy Corbyn said councils across the country needed to deal "swiftly and effectively with the scale of the fire safety challenge" posed by the Grenfell Tower fire.
"This is now a nationwide threat and the prime minister needs to get a grip," he added.
---
Do you live in one of the tower blocks that have failed fire cladding safety tests? Are you a resident in one of the affected tower blocks on the Chalcots estate? Email us at haveyoursay@bbc.co.uk
You can send your pictures and video to yourpics@bbc.co.uk
You can also contact us in the following ways:
Tweet: @BBC_HaveYourSay
WhatsApp: +447555 173285
Text an SMS or MMS to 61124 (UK) or +44 7624 800 100 (international)