Church of England and Methodists to discuss sharing clergy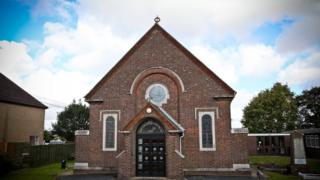 Methodists and the Church of England are to discuss allowing ministers and priests to serve in each other's Churches.
The step would in effect end a division in protestant Christianity that has existed in Britain since the 1700s.
The plans have been released jointly by the Churches at a time when they have lost worshippers.
They require approval from both the Church of England and Methodist governing bodies.
The Methodist Church claimed 195,000 members last year, compared with 263,000 in 2007, while numbers attending Church of England services have fallen by 12% in the last decade.
The proposals are included in a report produced by both Churches called "Mission and Ministry in Covenant".
Under the plans, a new Methodist "president-bishop" would join Anglican bishops to ordain Methodist ministers to serve in the Church of England.
Ministers and Anglican priests would then be able to serve in either Church.
Some local congregations already share premises, but these plans represent the first time since the death of John Wesley that Anglicans and Methodists will be able to share ministry.
Wesley was an Anglican whose teaching led to a split in the Church of England, after his death in 1791, and the foundation of the Methodist church.
The Rev Gareth Powell, the secretary of the Methodist conference, said: "Methodists and Anglicans urgently need a set of proposals to enable the two Churches to move towards fuller communion, sharing more profoundly in mission and ministry.
"The model of a president-bishop in these proposals... is a deeply Methodist way for John Wesley's people to engage at every level with the Church of England in mutual planning for pastoral oversight and Christian mission."
The Rt Rev Christopher Cocksworth, the Bishop of Coventry, said the plans were "workable".
He said: "The solution is built on the centrality of the historic episcopate and the bishop as minister of ordination.
"The scheme as proposed will enable dioceses, districts and local churches to engage in creative pastoral planning for the good of the mission of God in this country."
The plans will need to be approved by the Methodist conference and Church of England General Synod before any changes are made.