Child abuse inquiry staff raised concerns about lawyer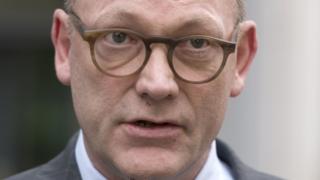 Concerns about the senior barrister on the independent child abuse inquiry had been raised a year before he resigned.
A report says two members of staff "took exception" to Ben Emmerson QC's interactions with them in 2015, though neither accused him of improper conduct or made a formal complaint.
He quit in September 2016 after another worker claimed he had groped her in a lift.
In December, he was cleared of sexual assault and harassment.
The independent report calls the inquiry's response "appropriate and proportionate".
Mark Sutton QC, who led the review, said the inquiry had been confronted with a "set of circumstances with complicating features" that had not been mentioned in the media coverage of the events.
"Anyone with experience of managing complex issues in the workplace would have viewed these circumstances as presenting very formidable challenges, even in a conventional employment setting," he said.
Mr Sutton said the events had arisen at a time when the inquiry had been "recovering its footing following the unsatisfactory leadership of its former chair", Justice Lowell Goddard.
The inquiry, currently led by Prof Alexis Jay, its fourth chair, was set up in 2014 to examine whether public bodies, including the police, had failed in their duty to protect children from sexual abuse.
It will also examine claims of abuse involving "well-known people".
The inquiry has faced repeated criticism from victims of historical child sexual abuse with concerns about its impartiality and independence.
'Perceived treatment'
As part of his review, Mr Sutton obtained details of resignations among the inquiry's team of barristers
His report notes that a number of team members resigned or were released in 2016 "for reasons unconnected with any apparent concern" for Mr Emmerson's style of leadership.
However, he adds that two barristers stated that their decision to leave had been influenced by the "perceived treatment" of the inquiry worker allegedly assaulted in the lift.
The latest review contradicts an earlier report by MPs on the Home Affairs Select Committee, which criticised the inquiry for a "wholly inadequate" response to the internal allegation of sexual assault.
Mr Sutton calls the accusation that the inquiry had been unresponsive to issues of unfair treatment "unjustified".
"It ignores a number of highly material factors, the detail of which I am unable to divulge in this public statement, which cast a fundamentally different light on events," he says.
"I have reached the clear conclusion that the events which came to a head in September last year were the product of a highly specific and confined set of circumstances.
"The attributes of those currently in positions of seniority should enable the inquiry, from here onwards to engage productively with its core activities."