NI fishing community cautiously welcome end of deal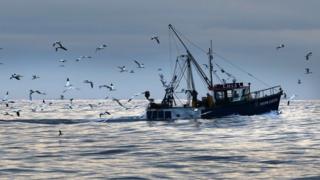 Northern Ireland's fishing community has cautiously welcomed the end of a reciprocal arrangement which allows other countries to fish in UK waters.
Irish, Dutch, French, German and Belgian vessels can fish within six and 12 nautical miles of UK coastline.
Environment Secretary Michael Gove said the move would help the UK take back control of fishing in its waters.
The DUP MEP Diane Dodds said it was the first step in re-establishing the UK as an independent coastal state.
She also said it would be the UK who would negotiate and decide on what terms other countries had access to British waters after Brexit.
'Severe consequences'
Fishing companies in Northern Ireland who fish in the waters of the Republic of Ireland, such as the Kilkeel fleet, will be affected.
Dick James, from the Northern Ireland Fish Producers Association warned there could be "severe consequences" for those fishing communities if a replacement arrangement was not made.
"The Kilkeel fishing fleet fish in the Bay of Dundalk in Irish waters under this rule and they might have to totally rethink their fishing patterns," he said.
"The Bay of Dundalk is in their backyard and it is not immediately obvious where else they could go to fish.
"If they diversify and go somewhere else there could be displacement issues all over the place."
Mr James said the ending of the agreement was a "direct consequence" of Brexit and "part of much wider picture".