UK ticket holder wins £87m Euromillions jackpot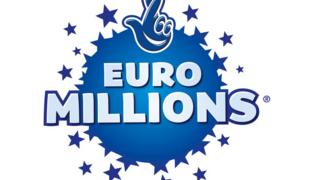 A ticket holder from the UK has claimed Friday's £87m Euromillions jackpot, Camelot has said.
If the claim is validated, the winner will bank £87,570,000, making them the seventh biggest UK jackpot winner, the lottery operator added.
It is the third Euromillions jackpot winner from the UK this year, following wins of £19.9m and £14.5m in February.
Six ticket holders, including two from the UK, each won Friday's second prize of just over £200,000.
Andy Carter, from Camelot, said: "It's great that the ticket holder has come forward to claim their amazing prize.
"We look forward to supporting the seventh biggest lottery winner in the UK as they celebrate their life-changing win."
Camelot said it would be up to the ticket holder to decide if they wanted to go public.
---
Six bigger winners from the UK
Colin and Chris Weir, from Largs, won £161,653,000 in July 2011
Gillian and Adrian Bayford, from Haverhill, Suffolk, won £148,656,000 in August 2012
An anonymous winner claimed £113,019,926 in October 2010
Neil Trotter, from Surrey, won £107,932,603 in March 2014
Dave and Angela Dawes, from Wisbech, Cambridgeshire, won £101,203,600 in October 2011
An anonymous winner scooped £93,388,943 in June 2015
Source: Camelot
---