'I was forced from my job for giving birth'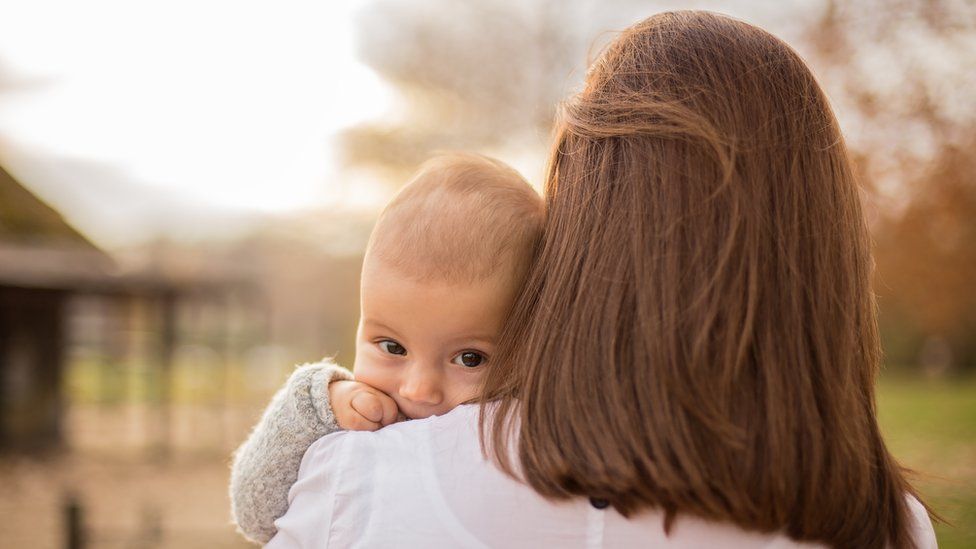 The scale of maternity discrimination is being hidden because of the use of gagging orders when women who have lost their jobs settle out of court, experts have told the Victoria Derbyshire programme.
"My boss said if I'm not going back to work, then I'd have to pay back all the maternity payment."
"Emma" - not her real name - was working as a beautician when she became pregnant.
She did not realise at the time that her boss's request was against the law.
She was called into the salon and told by the owner she would no longer be needed at the company.
"I didn't know what to do. I'm a single mum, no family. No-one can help me," she tells the BBC's Victoria Derbyshire programme.
"How can I pay my rent? How can I pay my bills? I was floored."
Emma went on to settle out of court. She signed a confidentiality agreement preventing her from speaking out about the case - which is why she is anonymous.
This is despite the Employment Rights Act and Equality Act protecting women from unfair dismissal because they are pregnant or on maternity leave.
Last year, the government described the findings as "shocking" and "wholly unacceptable", but no new protections have been brought in since.
Karen Jackson, director of law firm Didlaw and a specialist in discrimination cases, says the true scale of the problem is masked by the fact that many women sign settlement agreements containing a confidentiality clause - which stops them from speaking out.
"I've never seen a settlement agreement that didn't have a very strict confidentiality term in it," she says.
"I wish I could talk about some of the companies that I've dealt with and their attitudes to pregnancy and maternity.
"Household names, brands that we know, banks, insurers, utility companies, big conglomerates, retail - you name it, these companies have all at some point had some issues.
"If I look at the FTSE 100 there's a good chunk of companies on that list that I've acted against around pregnancy and maternity."
Conservative MP Maria Miller, chair of the Women and Equalities Committee, says women must be allowed to speak out.
"The government needs to take this situation very seriously indeed.
"We shouldn't have the problem hidden by confidentiality clauses," she explains.
Kiran Daurka, an employment solicitor at Leigh Day, says in 14 years she cannot recall one of her clients who was pregnant or had recently given birth taking her employer to a full tribunal.
She says such women are likely to settle and "accept a lower offer, as they don't really want to be in litigation during that time for emotional and financial reasons, which employers often exploit".
'Maternity discrimination'
Catherine McClennan won a maternity discrimination employment tribunal in 2015 against her employer, the TUC - which represents trade unions.
She received damages and costs of £21,000.
"My job and job title was omitted from the [company's] directory, which was really hard to see in print to be honest with you.
"At one point, when I said... 'Look, I've come back. I'm a competent, able, professional woman. I've always done a really good job. I just want to continue with my career', he asked a female colleague if I had post-natal depression," she continues.
Catherine says she did not expect such treatment from the TUC.
"I was very sad actually because I felt, as an organisation who stand for fairness, equality and justice, a number of individuals were obviously bringing the reputation of that into disrepute."
The TUC says there was "no malicious or conscious attempt to discriminate", and that it challenged the tribunal case "vigorously".
The government says it is "determined to tackle pregnancy and maternity discrimination" and there should be "zero tolerance" of it.
It adds that it is still reviewing whether stronger protections are needed. No date has been given for when a decision will be made.
The Women and Equalities Committee has previously recommended to the government that it brings in a "dismissal ban", similar to the one in place in Germany.
This means that only in very rare circumstances can a woman be dismissed while pregnant, or for four months after they give birth.
One German discrimination solicitor, Anna Lindenberg, said in 10 years she had only had to represent one woman who was dismissed during this period of time - such was the effect of the ban.
Catherine says she hopes change will come to the UK soon.
"It's a travesty really that women in 2017 are still faced with this level of discrimination," she says.