Queen hears tributes to Keith Palmer at opening of Met HQ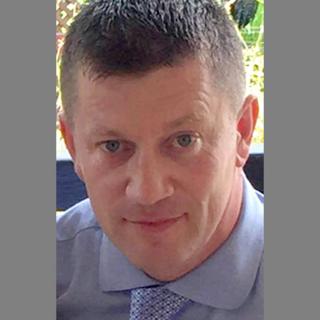 The Queen has met friends and colleagues of murdered PC Keith Palmer at the opening of the new Met Police headquarters in central London.
She listened to tributes from those close to PC Palmer, who died during the Westminster Bridge attack on 22 March.
The opening of the £81.9m building was originally scheduled to take place the following day.
Four other people died after Khalid Masood drove his car into pedestrians before stabbing PC Palmer to death.
PC Shaun Cartwright told the Queen how PC Palmer was his best friend and of his recollections of that day
The officer, who has been with the Met Police for almost 30 years, was due to relieve his colleague of his duties at the Palace of Westminster when another officer raised the alarm.
"I sometimes wonder if I'd got there five minutes earlier, I might have been able to help," he said.
"I explained to the Queen, Keith was also my friend and not just someone I worked with and I miss him dearly - he was my best friend for 10 years."
The official launch of New Scotland Yard was due to take place on 23 March but was postponed following the Westminster Bridge attack.
Three people died when Kent-born Khalid Masood drove a car into unsuspecting pedestrians on the bridge, before fatally stabbing PC Palmer, 48, in the Palace of Westminster's forecourt.
A fourth pedestrian knocked into the River Thames died more than two weeks later.